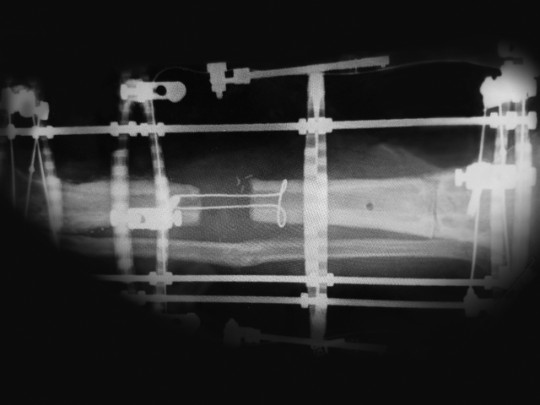 This Revolutionary Approach Regrows Bone to Prevent Amputation
Historically, patients with fractures that failed to heal or healed incorrectly in their extremities have had few treatment options available to them. The same goes for patients with bone defects or patients who required bone resection due to significant infection; their course of treatment often resulted in limb amputation. Fortunately, orthopedic medicine has since evolved to offer patients an alternative: bone lengthening via the Ilizarov method.
How the Ilizarov Method Works
The Ilizarov method (named after its inventor, Dr. Gavriil Ilizarov) is the most reliable technique to fill a gap of missing bone in the extremities — such as in the femur, tibia, and fibula — up to 15 centimeters long.
After the unsalvageable section of bone is removed during surgery, the surgeon segments off a healthy portion of the remaining bone and attaches it to an external fixator, a stabilized frame surrounding the limb. This mounted mechanism slowly pulls that segment down the limb, a technique known as bone transport, at the rate of about 1 mm per day. This stimulates the generation of new bone in a biological process called distraction osteogenesis in which separated bone grows to fill the empty space around it. Over time, this bridges the gap and results in a single reconstructed bone.
"We cut the bone, and we move a segment of bone internally inside the leg. And as we move it down and pull the bone, it grows brand new bone," said Dr. Christopher Perkins, orthopedic surgeon at Baylor St. Luke's Medical Center at the McNair Campus. "In many ways, this is the same as cancer treatment where you can cut out something that is bad, treat it, and then come back and make up and reconstruct the defect that's there."
In a patient with osteomyelitis (an infection of the bone), where a large section of bone has to be removed, either a bone graft (a surgical procedure that uses transplanted bone) or a bone transport procedure is necessary to avoid amputation of the limb. However, bone transport is ideal in these cases as it promotes the growth of healthy bone tissue while decreasing the risk of infection down the road.
Innovation in Bone Transport
The traditional bone transport method, while a reliable way to treat larger bone defects, poses consistent challenges for orthopedic surgeons and their patients. It requires an external fixation system with transfixing wires and pins that move through the skin. Downsides of the traditional method include pin-site infections, restricted joint motion, and pain.
Baylor St. Luke's Medical Center offers a modified technique using an external fixator with a cable-pulley system. Cables are woven through the segmented portion of bone and exit the skin to a pulley that is cranked to transport the bone. Without wires or pins that tear the skin during transport, this system decreases bone and soft-tissue complications, reduces scarring and pain, and increases the patient's comfort.
Expertise in Limb Reconstruction
The Ilizarov method is complicated and requires a great deal of training and expertise, including extensive knowledge of human anatomy, in order to reduce the risk of nerve and vascular damage. The vast amount of time it takes to acquire the necessary training means very few surgeons are suitably trained to perform this technique.
Dr. Perkins has trained with masters in the world of Ilizarov and teaches national courses in these techniques. He has developed a referral practice at Baylor St. Luke's Medical Center for patients with fracture and bone infection problems requiring limb reconstruction.
For information on the latest innovations in orthopedic treatment, surgery, and rehabilitation, schedule an appointment with your St. Luke's Health orthopedic physician. Our experienced, board-certified orthopedists offer patients comprehensive, personalized treatment plans.
Sources:
OUH NHS | The Benefits and Risks of the Ilizarov Technique for Limb Reconstruction
NIH NLM NCBI | Tibial Bone Transport Over an Intramedullary Nail Using Cable and Pulleys.
Find a Doctor
---
Looking for a doctor? Perform a quick search by name or browse by specialty.