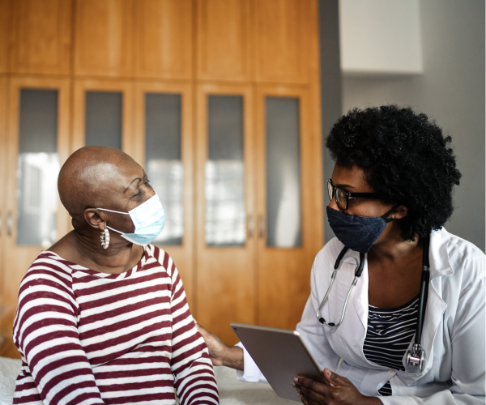 Chemotherapy is the use of drugs to prevent the growth of cancer cells by shrinking or killing them. The multidisciplinary team at St. Luke's Health personalizes the delivery of these drugs for each patient's type and stage of cancer. Regardless of how it is delivered, chemotherapy is considered a systemic treatment because the medication transfers through the bloodstream to the entire body.
Chemotherapy can be administered in the following ways:
Intravenous (IV) medication
Oral medication
Direct placement
Hyperthermic intraoperative peritoneal chemotherapy
Topical cream or lotion
Side Effects of Chemotherapy
Fatigue
Fever
Increased risk of infection
Nausea and vomiting
Decreased appetite
Mouth sores or irritation
Hair loss
Diarrhea or constipation
Low platelet count
Changes in skin
Concentration and short-term memory problems
Menstrual irregularities or cessation
Side effects from chemotherapy are different for each patient. Talk to your physician about what to expect and how to you can cope with these side effects. Our compassionate team is committed to providing expansive resources for our cancer patients, including support groups and spiritual care.
Find a Doctor
---
Looking for a doctor? Perform a quick search by name or browse by specialty.