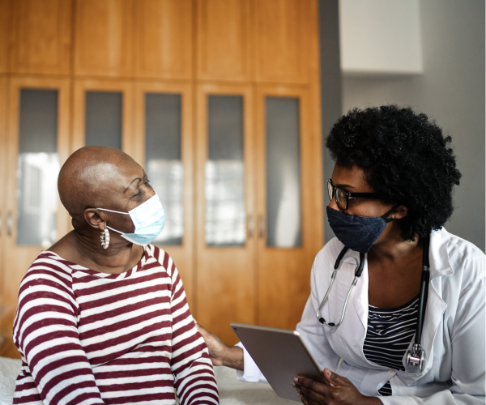 Gamma Knife is a technique that uses targeted radiation to treat brain tumors and other neurological conditions. This procedure does not involve any incisions. Rather, surgeons direct highly targeted beams of radiation to areas of the brain that require treatment, eliminating the risk of damaging surrounding healthy tissue.
During Gamma Knife brain surgery, 192 individual beams of radiation are positioned so they converge on a single focus point. Your surgical team optimizes the shape and dose of radiation to treat the areas that require treatment without exposing surrounding areas to excess radiation.
Gamma Knife treatment happens in four steps:
The doctor attaches the stereotactic head frame, which allows them to accurately pinpoint the treatment area. This frame prevents your head from moving during imaging and treatment and ensures radiation beams can be directed with the highest level of accuracy.
After attaching the head frame, the imaging team will perform an MRI, CT scan, or angiogram to determine the size, shape, and position of the treatment area.
Once the dimensions of the treatment area are established, your experienced medical team will plan your specific course of treatment. Because no two cases are alike, each patient's plan is designed specifically for them.
Once your surgical team establishes the plan, treatment begins. This procedure is silent and painless. Patients are awake during the procedure, which can last from a few minutes up to an hour.
Most patients experience no discomfort from Gamma Knife radiosurgery and return home the same day. Because radiation treatments work over time, patients can see the effects from this procedure over a period of weeks or months.
Find a Doctor
---
Looking for a doctor? Perform a quick search by name or browse by specialty.