1,385 Years of Combined Service Recognized at Memorial Annual Service Awards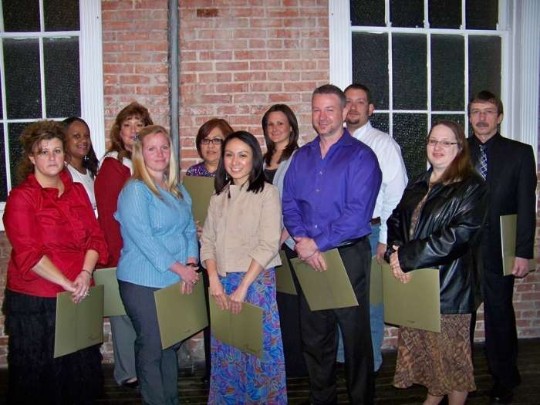 Employees being recognized for their years of service recently at the Memorial Medical Center – Lufkin Service Awards represented 1,385 years of combined service.  Employees were honored for their years of service ranging from 5 years to 30 years.  The honorees were presented with certificates of appreciation and service award gifts.

Cutline: 5 Year Awards from left to right: (back) Sasha Johnson, Jana Rains, Beatrice Rodriquez, Jade Minchew, Steven Glass and Paul Daniel (front) Tanya Milstead, Kimberly Divins, Myhr Angeli Go, Jeff Brooks and Tiffany Chapman.  Not pictured are Angela Barker, Gary Barron, Britney Bell, Debra Benton, Kelli Bunton, Kathy Burns, Marciano Casayuran, Felicia Cole, Freda Cook, Candus Dement, Brandi Elder, Michael Fabro, Sandra Gilbert, Denise Harrell, Debra Hollis, James Hornbuckle, Jessica Hunt, Konnie Jacks, Juanita James, Rebecca Ledford, Chanta Loftis, Ashley Martin, Trisha McLeroy, John Mills, Rita Morehead, Chandi Morgan, Tammy Oden, Hershel Shoemaker, Bobby Sims, Pamela Steel, Lindsey Suggs, Abra Toole, Misti Turner, Katrina Wheless, and Contrina Williams.
Cutline: 10 Year Awards from left to right: (back) Merlina Estrella, Shelli Brooks, Cindi Reynolds, and Aileen Adair (front) Mark Bryan, Carolyn Harris, and Sheila Booker.  Not pictured are Theresa Alexander, Pattie Applin, April Barley, Melanie Baxter, Erik Bogue, Tonia Buckner-Evans, Timothy Chaney, Elizabeth Cherry, Angelica Del Angel, Tanya Ethridge, Dusti Garcia, Cynthia Gomez, Laura Griffith, Charles Grumbles, Sharon Hadnot, Audra Harris, Peggy Jordan, Lee Lipscomb, Tracey Manley, Lucila Martinez, Pamala Perry, Sudha Pillai, Cherie Polasek, Perlita Tarongoy, Nicolle Timme, Wendy Tylich and John Williams.
Cutline: 15 Year Awards from left to right: Pauline Porter, Stacy Garcia, Susan Berquist and Rita Hennington.  Not pictured are Becky Baggett, Ruby Blake, Kay Evett, David Garrett, Rhonda Green, Joann Hanks, Kathryn Roodzant-Beck, Karrie Stanaland and Sheila Williams.
Cutline:  20 Year Awards from left to right: Kennth Hadnot, Debbie Steele, Ina Windham, and Paul French.  Not pictured are Debra Criswell, Elizabeth Hill, Brenda King, Sonia Langford, Julie McClain and Donald St. John.

Cutline: Jennie Ferguson received her 25 Year Award.  Not pictured are Doris Duffield and Sheila Hargis.
Cutline: 30 Year Awards from left to right: James Nelson, Joy Scott-Killam, Evelyn Lopez, Eric Ip and Arceli Basat.  Not pictured are Connie Mora, Karen Pittman and Gayle Truscott.
Cutline: Memorial also recognized retirees Lois Stubblefield for 30 years and Viola Jenkins for 20 years.  Not pictured are Peggy Mayes for 30 years and Jo Hunt for 25 years.
Publish date:
Friday, February 22, 2013
Find a Doctor
---
Looking for a doctor? Perform a quick search by name or browse by specialty.