23 Pound Stringer Wins Top Prize at 20th Annual Dr. Bill Shelton's Totally Awesome Fishing Adventure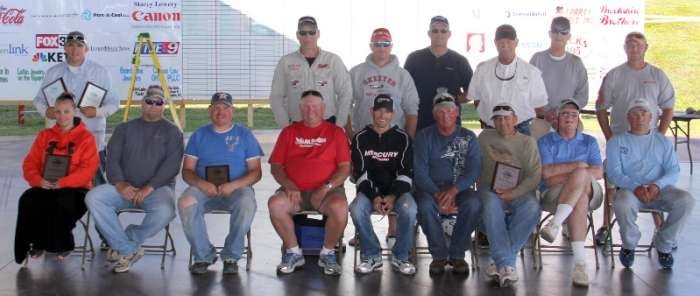 Although the top 10 stinger weight teams won cash prizes recently at the 2013 Dr. Bill Shelton's Totally Awesome Fishing Adventure, the real winners are the patients benefitting from the almost $28,000 raised through participants and sponsorships.  The tournament was held at the Dr. Bill and Emily Shelton Pavilion at Cassels Boykin Park on Lake Sam Rayburn.  All proceeds from the tournament benefit those in need at the Arthur Temple Sr. Regional Cancer Center. 
The top 10 teams with the heaviest stringer weights were: 1st place- Benjamin and Addie Craven with a weight of 23.95lb; 2nd place- Michael and Lance Lowery with a weight of 19.62lb; 3rd place- Ben and Sam Ballard with a weight of 17.98lb; 4th place- Donald Randall and Don Taylor with a weight of  17.40lb; 5th place- Travis Pattillo and William Crain with a weight of 16.65lb; 6th place- Kevin Walker, Jr. and Ted O'Dell with a weight of 16.54lb; 7th place- David and Steve Morton with a weight of 16.15lb; 8th place- Alton Rankin and Jason Moore with a weight of 15.88lb; 9th place- Danny Massey and Charles Miles with a weight of 15.50lb; and 10th place- Russell Sparks and Lanton Chumley with a weight of 14.71lb.
The top three Big Bass winners were: 1st place- Jason Moore weighing in a bass at 9.70lb; 2nd place- Benjamin Craven weighing in a bass at 8.58lb; and 3rd place- the team of Mark Richards and David Koret weighing in a bass at 6.23lb.
Many thanks to sponsors including Kwik Kopy Printing, A1 Party Rentals, KTRE, Y100 (Yates Media), Lufkin Coca Cola, Brookshire Brothers, Carroway Funeral Home, Consolidated Communications, First Bank & Trust East Texas, GENCO Federal Credit Union, Lockheed Martin, Lufkin Industries, Port-a-Cool, Stacey Lowery with Canon Solutions Amercia, The East Texas Urology Specialist, Lincoln Financial, McKesson, KICKS, Suddenlink, Best Buy, Lufkin Jewelry on the Square, NBC/FOX and more, for their support.
Publish date:
Tuesday, May 21, 2013
Find a Doctor
---
Looking for a doctor? Perform a quick search by name or browse by specialty.