Aquatic Therapy Makes a Big Splash in East Texas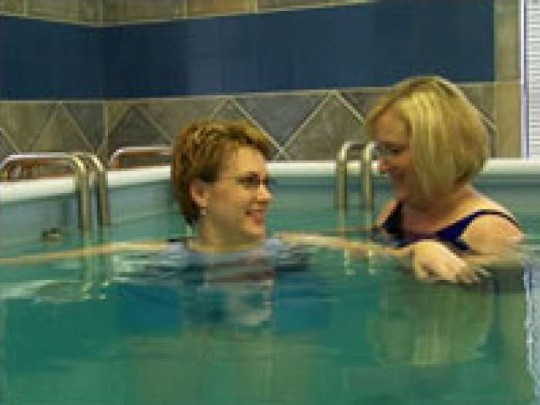 Wilson McKewen Rehabilitation Center Offers Area's Only Aquatic Therapy Program. Throughout the year and especially in the summer months, backyard swimming pools and public pool facilities are not only used for fun but for various exercise methods from maintaining and improving physical health to building cardiovascular endurance.  
The use of a swimming pool for these type activities can preserve participants' joints from the wear and tear that gravity imposes during traditional dry land exercise. A different type of water workout or prescribed therapy program for a specific group of people can be found at Lufkin's Wilson McKewen Rehabilitation Center's indoor pool, the only indoor aquatic therapy program in the area.
Wilson McKewen Rehabilitation Center's aquatic therapy program serves people who have muscle weakness or muscle control problems as a result of illness or injury.
Patients with a wide range of indications are candidates for aquatic therapy:
Rheumatology (Arthritis/Fibromyalgia)
Sensory Disorders
Limited Range of Motion
Weakness
Poor Motor Coordination
Pain
Spasticity
Perceptual/Spatial Problems
Balance Deficits
Circulatory Problems
Cardiac Diseases
Joint Replacement
Motor Learning
Orthopedic Injuries/Trauma
Neurological (MS)
Osteoporosis
Many of these patients may have limited mobility; therefore, regular exercise and treatment on dry land may not even be possible. Limitations on movement can make the most routine activities difficult. An aquatic or water environment can allow standing, walking, exercise and other functional movements.
Aquatic rehabilitation can achieve pain control, allowing the patient to move normally and improve strength and flexibility for transition to normal functional movement on dry land.
The Wilson McKewen Rehabilitation Center's aquatic therapy center includes complete accessibility for people who walk as well as those who require a chair lift in and out of the pool. With patient safety a key component of the center, emergency and safety equipment and procedures are properly in place to protect patients. Specially trained and licensed professionals provide skilled rehabilitation services to both adult and pediatric patients in a one-on-one session. Controlled water and surrounding air temperatures and humidity insure maximum comfort and a therapeutic environment. Other amenities Wilson McKewen Rehabilitation Center offers are handicap accessible changing, shower and restroom facilities for both female and male patients.
Wilson McKewen Rehabilitation Center operates as a not for profit outpatient rehabilitation provider of Memorial Health System of East Texas. Wilson McKewen serves a diversity of patients. No patient is ever denied treatment based on income or insurance coverage.
If you feel traditional rehabilitation is too painful and is not beneficial to your particular needs, please consult with your physician to form a treatment plan that is right for you. Therapists can speak with your physician to see if aquatic therapy is appropriate. Wilson McKewen Rehabilitation Center is located at 3010 South First (Hwy 59 South) in Lufkin.
For more information, call us at 936-634-2266.
Publish date:
Tuesday, December 08, 2009
Find a Doctor
---
Looking for a doctor? Perform a quick search by name or browse by specialty.