Award-Winning Hospital Gives Nationally Recognized Cardiac Care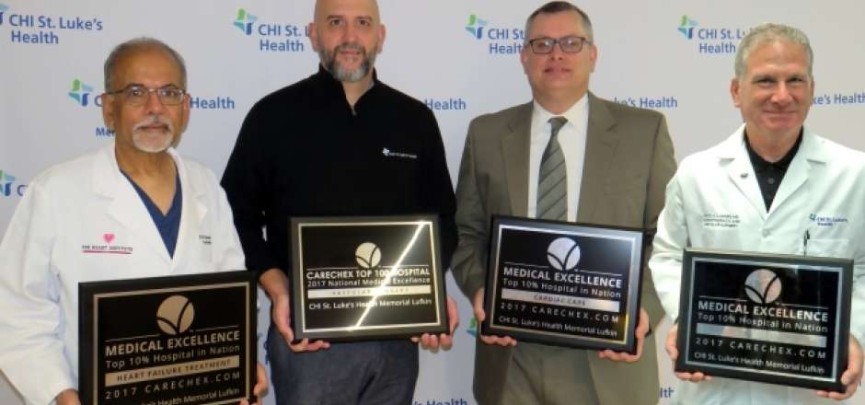 When seconds count for you and your loved one, you need the peace of mind when coming to a top-ranked hospital well-known for its commitment to outstanding cardiac care. St. Luke's Health-Memorial lives up to its goal of providing the highest level of care by consistently seeking out and earning the highest designations when it comes to the hearts of our community.
Across the country, hospitals are surveyed, evaluated and ranked according to quality and specialized services by numerous professional societies. These designations and certifications are trademarks for patients to identify quality facilities. This past year, St. Luke's Health-Memorial received high marks across the board, particularly in cardiac care.
U.S. News and World Report is nationally recognized for providing rankings on a variety of consumer needs,  including the best hospitals, colleges, cars and places to live or vacation. This year, U.S. News and World Report ranked St. Luke's Health-Memorial on its preferred list as one of the nation's highest performing hospitals for heart failure care.
"This designation is a major milestone for our team," said Shawn Barnett, Market COO and Lufkin President of St. Luke's Health-Memorial. "We have been recognized as a national leader in innovative care models, person-centered care and healthy communities. As an essential element of the value sought by consumers, we have demonstrated distinctive, consistent quality in the form of measurably superior clinical outcomes, patient experiences, and access."
St. Luke's Health-Memorial also earned the 2017 America's Best Hospitals for Heart Care, from the Women's Choice Award – an evidence-based designation reflecting exceptional clinical performance and the voice of the female consumer.
CareChex provides clinical, financial, and patient satisfaction findings to consumers, providers, and purchasers of U.S. medical care based on an evaluation of all components of medical quality including process of care, outcomes of care, and patient experiences. The company's report showed that Memorial excelled in Cardiac Care.
"Obviously we are proud of the hard work and dedication that goes into earning these kinds of designations, but it means more than just hanging a plaque on the wall," Barnett said. "The reason why this is so important for our community is that if you're experiencing chest pain, you can come to Memorial and know you're getting the very best in cardiac care."
Award-winning cardiac care starts with a strong partnership with local first responders, the emergency department staff, the cath lab team, physicians and surgeons, and post-op care throughout the hospital. Each team is highly trained in recognizing the signs and symptoms of chest pain and heart attacks to more efficiently work together.
St. Luke's Health-Memorial is part of Catholic Health Initiatives (CHI), a national nonprofit health system based in Englewood, Colorado. The faith-based system operates in 18 states and includes 103 hospitals, as well as long-term care, assisted- and residential living communities; community health services organizations; home health agencies and outpatient facilities and services.
Publish date:
Wednesday, February 22, 2017
Find a Doctor
---
Looking for a doctor? Perform a quick search by name or browse by specialty.