Blind Imaging Technician Retires from Memorial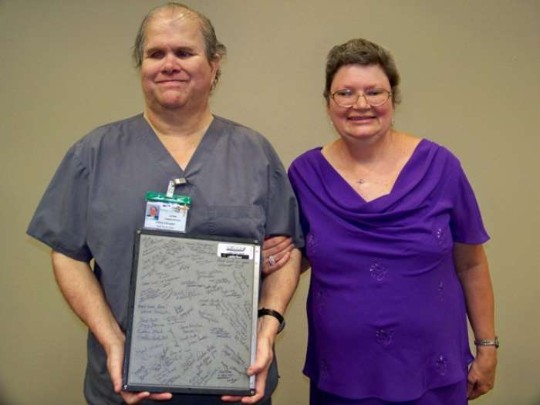 After serving Memorial Medical Center-Lufkin and its patients for the past 34 years, Dark Room Technician Steve Stewart said good-bye to a job he loved and left his fellow co-workers with the encouragement that nothing is impossible if you're willing to work hard.
Legally blind since the age of 15, Stewart never let his handicap hold him back. He said he always had trouble seeing as a child, and he subsequently underwent several surgeries to save his eyesight. At a time when most teenagers would be preparing to receive their driver's license, Stewart officially lost his sight. But he never lost his hope or determination.
"Before I even left the hospital after that last surgery, I told myself I was going to make something of myself," Stewart said. "I lost my eyesight on May 26, 1973. I turned 16 that summer, and in 1974, I went to the School for the Blind in Austin."
Three years later, the graduate went to a rehabilitation center in Dallas that taught Stewart how to live on his own. It was at the center that someone suggested Stewart work in a hospital dark room. In 1978, he began his training at Parkland Hospital in Dallas. He trained five days a week and then worked part time on the weekend in the dark room.
Stewart returned home to Lufkin and began working at Memorial in 1979. For the next 14 years, Stewart took the X-Ray cassettes from the machine into the dark room. There he unloaded and processed the film. He would then load new film into the cassettes to be used again.
As technology advanced over the years, Stewart adjusted. For the past several years, he answered phones and worked in both the Kurth Imaging Center and Temple Imaging Center.
"The Department won't be the same without Steve," Malnar said. "He was dedicated and determined, and truly an icon at this hospital. He never let his disability get in the way. Instead, he would say, 'Let's figure out how I can do this.' We're really going to miss him."
At a retirement party at the hospital, several Imaging technicians and other staff members wished Steve well, while most asked what they would do without him.
"I really enjoyed my co-workers; just being with them," Stewart said. "We are a close family, and I love them all. I loved my job from day one. I never saw any reason to leave here because I enjoyed my job so much."
But after 33 years of walking through the Memorial hospital halls with walking stick in hand, Stewart said it was time to retire. He has a new wife to take care of, after all.
Stewart and his wife Gina met in 1973 at the School for the Blind. They dated during their time there, and then drifted apart. In 2011, the two reconnected through Facebook. When they finally met up in person, it took only months for the two to be married. On April 21, 2013, the couple celebrated their one year anniversary.
"She came to see me on December 23, 2011, and we hit it off like never before," Stewart said. "We were married in April of the next year. Now that I've retired, I'm going to take care of Gina and myself."
The Stewarts plan to move to Tyler to begin their new life together.
Publish date:
Monday, May 06, 2013
Find a Doctor
---
Looking for a doctor? Perform a quick search by name or browse by specialty.