Breast Cancer Survivors Needed for Power of Pink! Special Video Project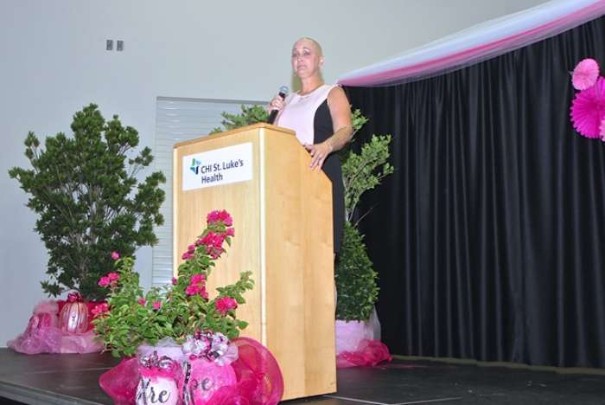 They say a picture is worth a thousand words.  St. Luke's Health Memorial is hoping that a community-wide video project will do just that and motivate women to take control of their health.  As part of the annual Power of Pink! Luncheon held in October, Memorial is inviting East Texas women who have battled breast cancer to share their stories on the big screen.   
Local women, who have been diagnosed with breast cancer during their lives, are encouraged to share their stories of hope. "For those women who shy away from public speaking, they will rest easy knowing their role in the video will not require any speaking," said Lindsey Mott, Sr. Marketing Coordinator for St. Luke's Health Memorial.  "Participation is quite simple and will just require the women to be videoed with written messages."
Last year's Power of Pink! production, "The Sun is Rising," featured breast cancer survivor Kathleen Riley of Livingston and her year-long journey of healing.  City of Lufkin Videographer, Randy Cadwell, and the St. Luke's Health Memorial Marketing team produced the documentary that captured some of the most intimate moments of Ms. Riley and her family as she underwent treatment for the disease.  That video drew national attention and was named the 2015 Gold Aster Award Winner by Marketing Healthcare Today magazine.
Breast cancer survivors who are interested in participating in this year's video can contact Lindsey Mott in the Marketing Department at St. Luke's Health Memorial at 936-639-7613 or [email protected] to get more information and sign up.  Those interested in participating should contact Ms. Mott no later than Friday, August 21.
Publish date:
Thursday, August 13, 2015
Find a Doctor
---
Looking for a doctor? Perform a quick search by name or browse by specialty.