Breast Commander Takes Top Honors in 6th Annual Art Bra Contest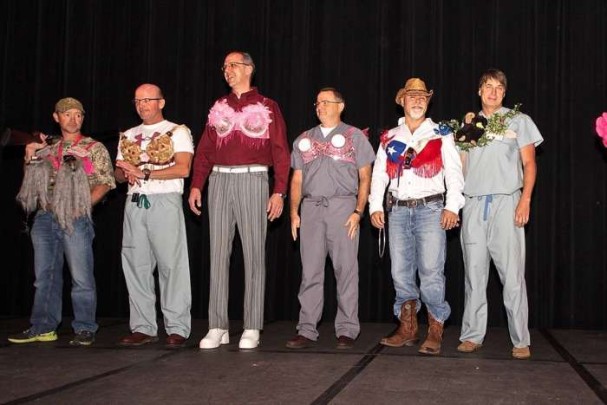 "Don't be a quack, Jack! Check'em from front to back, Jack!" is what this year's first place winner of the 6th Annual Art Bra Contest encouraged ladies to do.  "Breast Commander" created by Carla Stone, Paige Terry, Becky Eldridge, April Frensley, Janet Williams, Jackie Kendrick and Terri Maberry with Heart to Heart Hospice took top honors in the contest presented by St. Luke's Health Memorial and Abeldt's Gaslight Pharmacy.
The Art Bra was created years ago when a woman, who lost her mother to breast cancer, found buttons and trinkets among her mother's belongings.  She refused to throw them out and instead found a creative way to remember her mother and to help others.  The daughter sewed those buttons and trinkets onto a bra and the rest is history.   
This year the Art Bra competition featured 12 entries with decorations including lights, feathers, glitter and more.  The top three entries were chosen by special guest judges and the community had the opportunity to go online to vote for their favorites.  A top winner from Livingston entries was also chosen based on a combined score from judges and online votes.
The winning entry from Livingston was "Pink Bling," designed by Leanna Harrison and Pat Hughes in honor of Goldie, Kathy, Pat and Kris.  The bra had pink beaded fringe, pink feathers, hot pink rhinestones and lights.
The 3rd place winner was "Cowgirl Up" designed by Patsy Harper and Mary Ellen Riley in honor of Goldie, Kathy and Pat.  This bra featured a Texas flag design and a cowgirl theme.  2nd place went to "Flashing for a Cure" entered by Hospice in the Pines.  Two spotlights were the focus of this bra with plenty of pink shimmer.  First place had a "Duck Dynasty" theme with ducks with long beards and duck calls. 
The People's Choice winner as decided by the online vote was "Don't Monkey Around – Get a Mammogram."  This entry was created by Sherry Hill.  The main focus of the bra was a monkey with a banana.  It also included vibrant flowers and a butterfly.
"I never know what to expect each year as we prepare for the Art Bra Contest," said Lindsey Mott, Community Relations Specialist at St. Luke's Health Memorial. "Every year I think we have seen it all, but every year I am proven wrong! It is fun to see how creative our community can be."
The winning entries were recently featured at the 22nd Annual Power of Pink! luncheon in Lufkin.  Special models were selected to wear the flashy bras in front of a crowd of over 700 people.  Local physicians Dr. Dan Fuentes, Dr. David Price, Dr. Jeff Glass, Dr. Troy Coleman, Dr. Hunt Huber and Dr. David Bailey strutted their stuff as they modeled the winning bras in the name of breast cancer awareness and fun.
If you didn't get the opportunity to see the art bras at the Power of Pink! Luncheon, you can visit https://www.chistlukeshealthmemorial.org to see all of the entries.  Additionally, the bras will be on display for the remainder of the month in the lobby of St. Luke's Health Memorial Lufkin.  The Art Bra contest was sponsored by St. Luke's Health Memorial and Abeldt's Gaslight Pharmacy.
Publish date:
Monday, October 20, 2014
Find a Doctor
---
Looking for a doctor? Perform a quick search by name or browse by specialty.