Bringing Cardiovascular Care to Surrounding Communities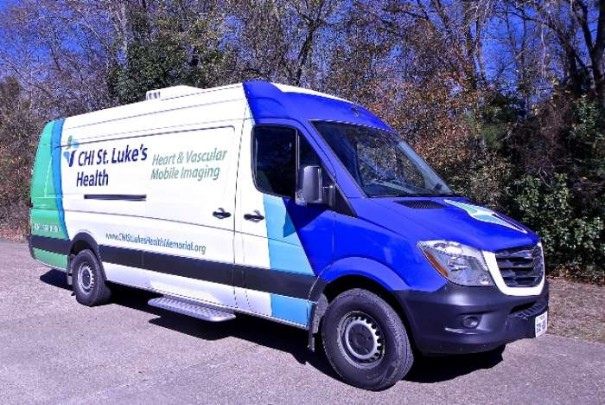 Patients in rural East Texas now have access to outpatient, diagnostic procedures through St. Luke's Health Memorial's Heart & Vascular Mobile Imaging unit. This unique cardiovascular imaging department on wheels provides echocardiograms, carotid scans and most vein studies to patients who may not have the ability to travel to Lufkin. These procedures are important and can oftentimes be life-saving.
"East Texans are at an all-time high risk for cardiovascular disease, and many can't afford to travel to Lufkin to have preventative, and oftentimes necessary, imaging procedures. That's why we're bringing the imaging tests to them," said Ilyas M. Khan, M.D., Interventional Cardiologist. "We will be traveling all across East Texas making sure our neighbors get the care they need and deserve."
All tests and procedures are performed by a certified Echo Technologist inside of the van for privacy and convenience.
Services include:
Echocardiograms: An ultrasound that views the heart's structure and checks how well it functions.
Carotid Scans: An ultrasound that views the insides of your carotid arteries.
Most Vein Studies: An ultrasound that views veins and arteries in the legs to identify any blockages or other issues preventing good blood flow.
"Our mission at St. Luke's Health is to create healthier communities and this mobile imaging unit is helping us accomplish that goal," said St. Luke's Health Memorial COO & Lufkin President Shawn Barnett. "No longer are we confined inside the walls of the hospital and relying on patients to come to us when they are sick. We are bringing preventative, innovative care to the people who need it most, right where they are."
The mobile unit will be available Monday through Thursday on a rotating schedule.
Day of the Week     Town                   Location
Monday                 Center                 420 Tenaha St.
Tuesday                Lufkin                  Vein & Leg Pain Center
Wednesday             Jasper                  1305 E. Main
Thursday               Hemphill              2120 Worth St.
These additional locations will be scheduled as needed:
TCH Family Medical Clinic, 104 N. Beech St., Woodville 
Corrigan Medical Clinic, 103 Hospital St., Corrigan
Health Center of SouthEast TX, 1651 S. Byrd Ave, Shepherd
Alabama-Coushata Chief Kina Health Clinic, 129 Daycare Rd, Livingston
Huntington Housing Authority, 210 W. Walnut St., Huntington
Groveton Family Medical Clinic, 110 N. Magee Ave., Groveton
Memorial Medical Clinic, 21 Alpine St., Coldspring
To schedule an appointment, patients must have a doctor's referral. For more information, call (936) 634-8900 or click here. 
Publish date:
Monday, June 06, 2016
Find a Doctor
---
Looking for a doctor? Perform a quick search by name or browse by specialty.