Brother Billy Recognized for 20 Years as St. Luke's Health Memorial Chaplain
More than 100 St. Luke's Health Memorial employees were on hand Thursday to show their appreciation for the longtime retired chaplain affectionately known as Brother Billy, who served at Memorial for nearly 20 years and retired at the age of 92.
Serving as a member of the hospital's Board of Directors and Board of Trustees, Brother Billy Jackson became part of the Memorial family while he was the Chairman and CEO of Perry Brothers, a national retailer headquartered in Lufkin. Following his retirement, he was asked to serve as a Lay Chaplain for Memorial Medical Center-Lufkin. Soon thereafter, Brother Billy was named the full time chaplain—a position he held from May 1997 to May 2015.
During his tenure with Memorial, Brother Billy counseled and offered guidance and leadership to thousands of patients, guests, employees and physicians. From leading morning prayer groups throughout the hospital and praying intimately with patients and their families to holding worship services in the chapel and handing out daily devotionals, Brother Billy is remembered for his timeless service and his faithfulness to God's cause.
A bronze plaque in his honor was unveiled at the Thursday morning ceremony and now hangs outside of the hospital chapel on the first floor of St. Luke's Health Memorial.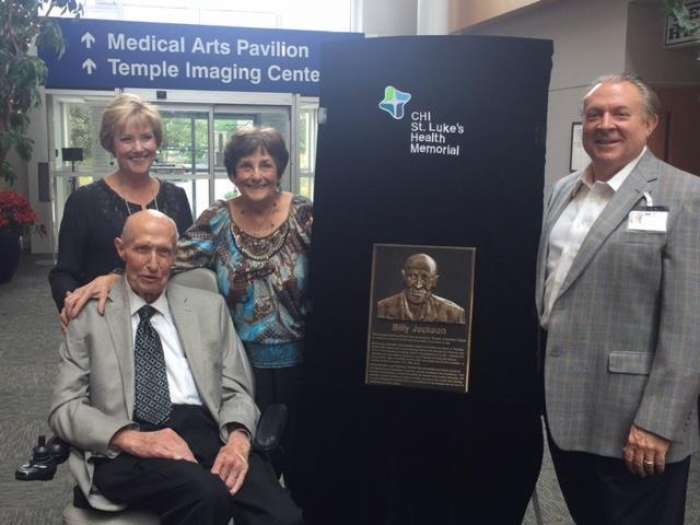 Publish date:
Monday, November 09, 2015
Find a Doctor
---
Looking for a doctor? Perform a quick search by name or browse by specialty.