Cancer Center CT Scanner Allows for New Possibilities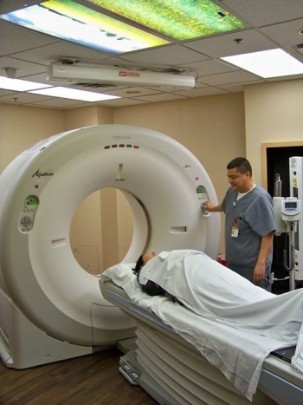 As part of a major investment in the health and well-being of the community, St. Luke's Health Memorial recently purchased a Toshiba large bore CT scanner in order to plan treatment for cancer patients with more precision. In addition, bariatric patients – patients with morbid obesity – will now be able to be imaged.
The new CT scanner is part of a $4.3 million equipment and technology upgrade in the Temple Cancer Center.
CT scans are used in radiation therapy to pinpoint exactly where to aim the treatment. The new Toshiba large Bore CT scanner is specifically designed to offer improved planning for radiation therapy treatments.
Temple Cancer Center Medical Director Sid Roberts MD, FACR, said the ability to image a patient in the exact position they are treated in is critical to the success of radiation therapy treatment planning and delivery.
"This is particularly important for our breast cancer patients," Dr. Roberts said. "The large bore and field size of the new Toshiba CT allows us to scan patients with their arm out away from the body in a comfortable position for treatment. In addition, very obese patients can be scanned and planned in ways that were not possible before."
During a CT scan, a patient lies on a table and is entered into a round opening in order to process images of the body and detect abnormalities. Before now, anyone over approximately 450 pounds was not able to have a CT scan performed locally. According to Director of Imaging Services and the Temple Cancer Center Bill Malnar, M.S., R.T. (R), patients were faced with either leaving the area for their scan or having to utilize other options that might be more invasive or not as effective in order to obtain a diagnosis.
The scanner utilizes a high capacity table that allows for the scanning of patients up to 660 pounds and yields excellent image quality with significantly less radiation. It is the only one of its kind in the East Texas area.
"This new scanner has a larger 90 centimeter opening – compared to the standard 70 centimeters – along with a scanable field of 80 centimeters, and also reduces radiation exposure to the patient by 30 to 50 percent, depending on the study," Malnar said.
The CT scanner has the added benefit of decreasing claustrophobia in some patients, because the opening is so large, according to Malnar.
Three CT scanners are now in operation at St. Luke's Health Memorial Lufkin. Inpatient and outpatient imaging tests are conducted at either the Temple Imaging Center or the Kurth Imaging Center. While this new scanner, located in the Cancer Center, will primarily be used for radiation therapy simulation, Malnar said it can also be used as a back-up for the hospital, allowing for more flexibility.
St. Luke's Health also purchased a $2.5 million linear accelerator used for radiation therapy and numerous software upgrades and support equipment. The new CT scanner became operational in December. The linear accelerator will be operational in March.
Publish date:
Tuesday, February 03, 2015
Find a Doctor
---
Looking for a doctor? Perform a quick search by name or browse by specialty.