Cancer Center Receives 3-Year Accreditation with Commendation
The Commission on Cancer (CoC) of the American College of Surgeons (ACoS) once again granted Three-Year Accreditation with Commendation to the Arthur Temple Sr. Regional Cancer Center.
A CoC-accredited cancer program ensures that a patient has access to comprehensive care with state-of-the-art services and equipment, access to cancer-related education and support, and a multidisciplinary team and facility approach to coordinate the best treatment options available.
The Accreditation Program, a component of the CoC, sets quality-of-care standards for cancer programs and reviews the programs to ensure they conform to those standards.  Accreditation by the CoC is given only to those facilities that have voluntarily committed to providing the highest level of care and that undergo a rigorous evaluation process and review of their performance. 
During an onsite evaluation by a physician surveyor, the Arthur Temple Sr.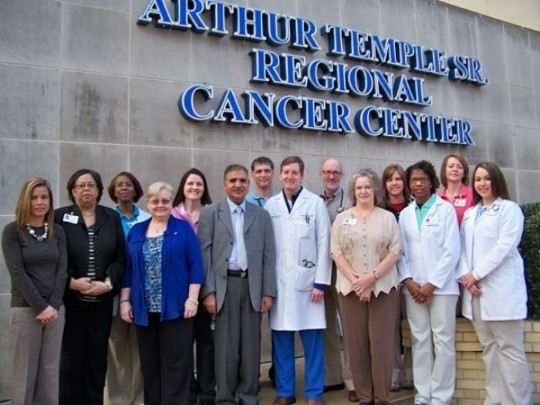 Regional Cancer Center was in compliance with all of the CoC's 36 standards with no deficiencies and received the Commendation rating for seven of the standards, including outcomes analysis, prevention and early detection, cancer-related quality improvements, among others.
To maintain accreditation, facilities with CoC-accredited cancer programs must undergo an on-site review every three years.
"We have received accreditation from the American College of Surgeons since 1995, and that accreditation has been with commendation since 2005," said Sidney C. Roberts, MD, FACR, director of the Arthur Temple Sr. Regional Cancer Center. "Accreditation represents a commitment to excellence day in, day out, every year. To maintain accreditation with commendation shows we are performing consistently at the highest level over a long period of time. Excellence is what our patients expect; excellence is what we deliver."
The Arthur Temple Sr. Regional Cancer Center offers Intensity-Modulated Radiation Therapy (IMRT) with two Siemens Oncor Multi-leaf Collimator Linear Accelerators which precisely treat cancer utilizing finely focused radiation beams. In addition, Memorial boasts the first permanent PET/CT scanner in the area for imaging cancer in the body, a brachytherapy (radioactive implant) program, and access to on-going clinical trials and new treatment options.
The American Cancer Society estimates that more than 1.5 million cases of cancer will be diagnosed in 2011. CoC-accredited cancer programs make up 25 percent of all hospitals, and diagnose and/or treat 71 percent of newly diagnosed patients each year.
To learn more about the Cancer Center, contact the Arthur Temple Sr. Regional Cancer Center at 639-7468.
Cutline:  Pictured from left to right: Angela Whitley, Jackie Gilmore, Madeline Collier, Peggilu Watkins, Allison James, Munir Ahmad MD, Bill Malnar, Alan Bassin MD, Sid Roberts MD, Charlotte Wammel, Aimee Salas, Jewel Randle, Julie McClain and Alise Fira.
Publish date:
Thursday, January 19, 2012
Find a Doctor
---
Looking for a doctor? Perform a quick search by name or browse by specialty.