Cancer Patient Assessment Recognized by Texas Hospital Association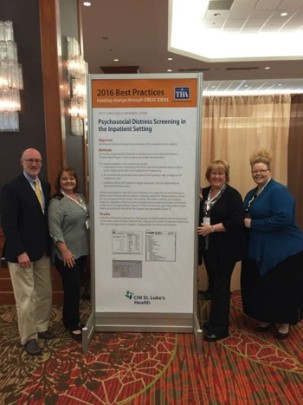 St. Luke's Health Memorial Lufkin staff prides itself on treating not only the physical ailments of its patients, but also their social, emotional and spiritual needs, as well. The Texas Hospital Association recently recognized Memorial and its staff for implementing a protocol that identifies and addresses the psychosocial needs of cancer patients being treated in the hospital.
The American College of Surgeons notes that cancer is a complex disease process that affects patients in a variety of ways. Patients may experience psychological, social, financial, and behavioral issues that can interfere with their treatment plans and adversely impact their outcome. Accredited cancer programs assess cancer patients for distress and have a process in place to address psychosocial and other factors that can interfere with successful treatment.
Using the National Comprehensive Cancer Network (NCCN) Distress Thermometer, St. Luke's Health Memorial implemented a hospital-wide process to ensure timely assessment of distress for those with an active cancer diagnosis. The information gained from the assessment is used by clinicians, social workers, case managers, and chaplains to address the psychosocial needs of the patient. This process leveraged the electronic medical record system to identify cancer patients, prompt the nurses to measure distress, and automatically generated referrals for support as needed.
St. Luke's Health Memorial's distress assessment process was recognized at the Texas Hospital Association 2016 Annual Conference and Expo on January 21 and 22 as a Best Practice. Authors of the protocol, which was implemented last summer, include Brenda Taylor, RN, BSN, Director of Kurth Three Renal/Oncology Unit; Michael Plankers, RN, MSN, Chief Nursing Officer; Tanya Spivey, Clinical Informatics Analyst; and Sidney C. Roberts, MD, FACR, Radiation Oncologist, Cancer Committee Chair.
"By addressing our patients' psychosocial issues regarding a cancer diagnosis, we are able to care for the whole person, not just treat the cancer," said Temple Cancer Center Medical Director Dr. Sid Roberts.
Patients are asked to rate their level of distress on a scale on 0-10, with 0 being no distress and 10 being extreme distress. Charting a level 4-10 generates a consult for case management for further intervention. All patients with an active cancer diagnosis, regardless of distress level, receive resource material in a number of categories, including difficulty with insurance or payment of medical needs and/or prescriptions; difficulty with finances; difficulty with transportation; difficulty with lodging; difficulty with caregiver issues; and difficulty with depression or sadness. If any spiritual concerns  are noted, a consult for the chaplain is automatically generated.
"This was a necessary protocol that we voluntarily implemented in order to better serve our patients," said Brenda Taylor, Nurse Manager for the oncology and renal floor at St. Luke's Health Memorial Lufkin. "By understanding where our patients are on a deeper level, we can help enhance their health care outcomes." 
Publish date:
Wednesday, February 03, 2016
Find a Doctor
---
Looking for a doctor? Perform a quick search by name or browse by specialty.