Cardiologist Performs Complete Heart Catheterization through the Arm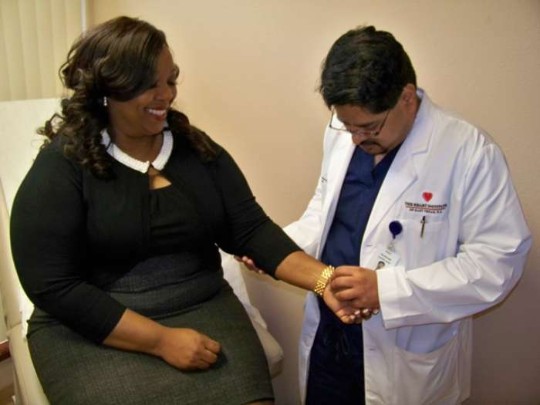 Cardiologists across the country are discovering the benefits of performing heart catheterizations through the upper extremity in order to reduce major risks and lessen recovery time. For the first time in Lufkin, board certified Cardiologist Ilyas Mohammed, M.D performed a complete right-side cardiac catheterization and left-side cardiac catheterization/coronary angiogram via the wrist and elbow at St. Luke's Health Memorial Lufkin Cath Lab.
Traditionally, cardiac catheterizations are performed by inserting a catheter through an incision made in the groin to access the femoral artery. The thin plastic catheter is advanced through the body's network of arteries until it reaches the heart. Now, cardiologists are able to access the heart through a pinhole size incision in the wrist.
Patricia Peacock Carter is a registered nurse who worked at St. Luke's Health Memorial Lufkin for ten years. She was diagnosed with a birth defect in which there is an opening in her septum between the two atriums of the heart. In December, she felt ill and short of breath and went in to see Dr. Mohammed. An abnormal stress test revealed the need for a cardiac catheterization.
Dr. Mohammed, with the Heart Institute, specializes in performing cardiac catheterizations and interventions, such as a stent or angioplasty through radial artery (wrist) access in addition to the conventional femoral (groin) approach.
Wrist-access heart caths have been performed at St. Luke's Memorial Lufkin in the past, however, Dr. Mohammed said this is the first time they were able to evaluate both right and left sides of the heart during one procedure through the arm.
"We inserted two small catheters into the left forearm – one in the wrist and one in the elbow – and after the procedure, the patient was able to sit up right away," Dr. Mohammed said. "Within two hours, she was able to go home."
Dr. Mohammed said by performing the heart catheter through the arm rather than the groin there is less risk of major bleeding and a shorter recovery time. After a traditional cardiac catheterization, some patients may experience pain and bruising at the site for several days. Additionally, the patient must remain immobile on his or her back for several hours following a traditional procedure. But Dr. Mohammed said that wasn't the case for Carter.
"I feel like this kind of procedure where they go through the wrist to access the heart needs to be utilized more often," Carter said. "People don't want to be lying on their back for hours. I was very pleased with how it all turned out for me."
It has been a few weeks since Carter's heart cath, and she said she's feeling great.
"It was a minimal procedure," Carter said. "Dr. Mohammed was conscientious during the procedure, and there was hardly any pain at all."
For more information about wrist-access heart catheterizations, contact Dr. Ilyas Mohammed at the Heart Institute at 936-632-8787. Dr. Mohammed is fellowship trained in Interventional Cardiology, board certified in Cardiovascular Diseases, Echocardiography, Nuclear Cardiology and Internal Medicine.
Publish date:
Monday, January 19, 2015
Find a Doctor
---
Looking for a doctor? Perform a quick search by name or browse by specialty.