St. Luke's Health, HIET Cardiologists Deliver New, Less Invasive Procedure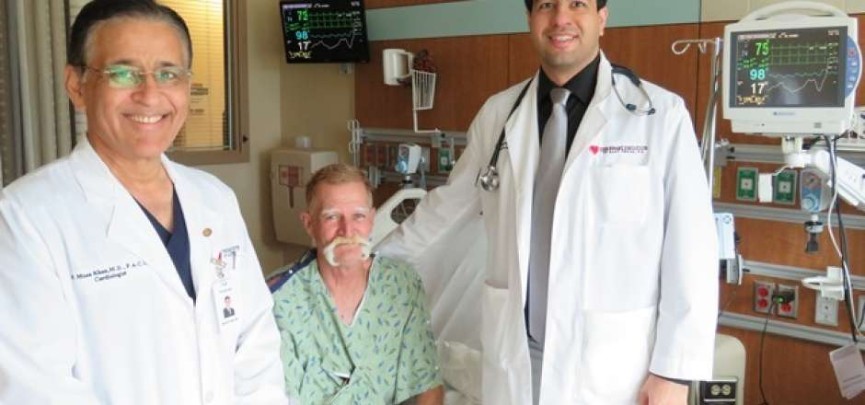 St. Luke's Health-Memorial and the Heart Institute of East Texas have brought the latest advancements in minimally invasive cardiovascular procedures to local patients living with life-threatening abdominal aortic aneurysms. For the first time in Lufkin, a team of interventional cardiologists repaired a man's abdominal aorta through two small holes less than a centimeter each.
Over the years, interventional cardiologists have been able to reduce the patient's risk of complications by repairing abdominal aortas with smaller and smaller incisions. Originally done as a lengthy and potentially dangerous, open procedure, the nonsurgical Percutaneous Endovascular Abdominal Aortic Aneurysm repair (PEVAR) performed by M. Musa Khan, M.D., FACC, and Amir Solhpour, M.D., FACC, of the Heart Institute of East Texas, is revolutionizing patient recovery, satisfaction and overall outcomes.
"This is amazing technology that allows us to offer a state-of-the-art procedure to our patients right here close to home," Dr. Khan said. "It also allows us to perform this procedure in a wider and more complex range of patients. We are able to now perform this procedure more quickly, which most importantly speeds up the patient's recovery."
Lufkin resident Harry Lee, 64, was referred by his family doctor to the Heart Institute of East Texas five years ago for an abdominal aneurysm. A retiree from the military and from truck driving, Lee said his physicians had been monitoring him every six months before they decided it was time to perform the necessary procedure.
"I wanted to be here because I don't think I could have found better doctors than the ones I had to do this surgery," Lee said the day after his procedure. "When I found out I was the first person to have this particular procedure done, I thought that was pretty neat. I was up walking that afternoon, and I feel pretty good. It's a relief knowing I don't have that aneurysm anymore."
Dr. Khan and Dr. Solhpour worked simultaneously during the procedure in the St. Luke's Health-Memorial cardiac catheterization lab. Dr. Khan made a small puncture in each groin and they both inserted a tiny plastic tube into each of the femoral arteries. The aneurysm was then repaired with precise placement of stent grafts. Once the procedure was completed, the small holes were closed by a special device, with no further incision necessary, and then covered by a Band-Aid. Mr. Lee felt no pain while under mild sedation rather than general anesthesia.
"Performing these procedures percutaneously has been shown to reduce procedure time, facilitate the procedure by using local rather than general anesthesia, reduce risk of wound complications and the need for post-operative analgesia and potentially reduce blood loss and hospitalization time. All of this contributes to improved patient satisfaction," said Dr. Solhpour, who recently joined the Heart Institute of East Texas. "Additionally, patients with severe lung diseases, unable to undergo general anesthesia, have no problem doing this procedure percutaneously, as it is done with moderate sedation."
Lee was able to return home the very next day, Dr. Khan said.
Dr. Khan and Dr. Solhpour are specially trained to perform PEVAR procedures. The devices used during the procedure are custom-designed for each patient. Patients should consult their physician about the options available for them.
"Because of this technique, this procedure will be available to more difficult aneurysm cases that could not be done here before and for patients who could not undergo anesthesia," Dr. Khan said. "Overall, we will be able to keep more patients here at home for these necessary, life-saving procedures."
For more information, contact the Heart Institute of East Texas at 632-8787. 
Publish date:
Wednesday, April 26, 2017
Find a Doctor
---
Looking for a doctor? Perform a quick search by name or browse by specialty.