St. Luke's Health Memorial and Concerned Black Men Present Scholarships to LHS Seniors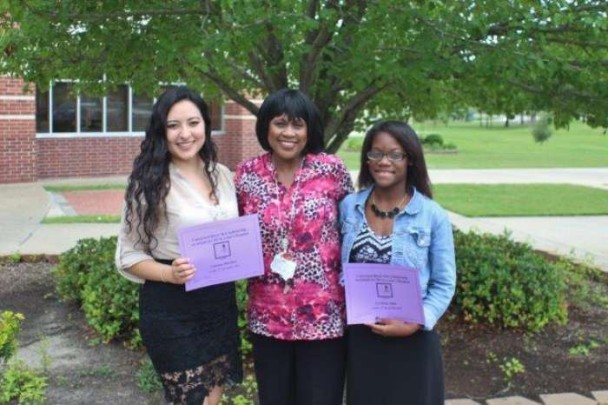 In order to continue the legacy of quality health care provided by a caring and compassionate staff, St. Luke's Health Memorial is investing in the futures of two outstanding Lufkin High School seniors.
St. Luke's Health Memorial – along with its Project Opportunity partners, the Concerned Black Men organization – presented two Lufkin High School seniors each with a $500 scholarship. The scholarships were presented to Vanessa Martinez and LaShae Amie at the 2015 LHS Scholarship Awards Program on Tuesday, May 12.
Vanessa plans to study nursing and go to medical school to become a pediatrician. She has been accepted to Lamar University. Vanessa said she plans to work her way through college as a certified Nurse Aide, a certificate she earned while in high school. She is involved in various extracurricular activities and community service including band and Special Olympics. She says her biggest obstacles in life always involved financial resources, and while they work hard, she attributes those struggles to her parents' lack of education. Vanessa will be a first generation college student.
La'Shae wants to become an obstetrician gynecologist. Raised primarily by her grandparents, she has a strong faith in God and describes herself as outgoing and determined. She decided in 7th grade what she wanted to be when she grew up and has been pursuing her dream ever since so she can take care of others as God intended. La'Shae currently works as McDonald's cashier to earn money for college. She is involved in track and field and volunteers for the Hope Center's After School Program, among other activities. She plans to attend Stephen F. Austin State University to study nursing.
Both La'Shae and Vanessa expressed their gratitude to St. Luke's Health Memorial for this scholarship opportunity.
Concerned Black Men awarded 12 scholarships at Tuesday night's award ceremony including the two made possible by CHI.
Publish date:
Wednesday, May 13, 2015
Find a Doctor
---
Looking for a doctor? Perform a quick search by name or browse by specialty.