St. Luke's Health-Memorial Clinics Welcomes Fourth OB/GYN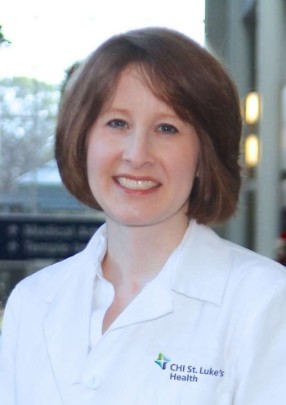 St. Luke's Health-Memorial Clinics welcomes Board Certified Obstetrician and Gynecologist and Lufkin native Dixie McClendon-Coker, M.D. to its growing team of specialists and primary care providers.
Dr. McClendon-Coker specializes in routine and high risk Obstetrics, Gynecology, robotic and minimally invasive surgery, and infertility issues.
A former Flight Medicine physician with the U.S. Air Force, Dr. McClendon-Coker said she's excited to be home utilizing her skills and expertise in the community she loves. She is the fourth Obstetrician and Gynecologist hired by Memorial Clinics in the past several months and will help expand and enhance women's services offered to the East Texas community.
She graduated from Stephen F. Austin State University before receiving her medical degree from the University of Texas Health Science Center in Houston. Her post-graduate training included a transitional year internship at the Texas Tech University Health Sciences Center in El Paso and a Obstetrics and Gynecology Residency through Texas A&M University at Scott & White Memorial Hospital in Temple Texas. Dr. McClendon-Coker was a Flight Medicine physician with the 96th Bomb Squadron based out of Barksdale Air Force Base in Bossier City, Louisiana during which she deployed to Guam. Prior to moving to Lufkin, she was serving as an OB/GYN at the Offutt Air Force Base in Bellevue, Nebraska.
Dr. McClendon-Coker is seeing patients at 1105 W. Frank Avenue, Suite 110, located inside the Medical Arts Pavilion on the St. Luke's Health-Memorial campus. Patients can schedule an appointment by calling 634-1620. Her office hours are Monday through Thursday from 8 a.m. to 5 p.m. and Friday 8 a.m. to noon.  Her office accepts most major insurance and Medicare.
St. Luke's Health Memorial Clinics, a division of St. Luke's Health, employs and partners with nearly 40 providers in 17 locations across East Texas, including Lufkin, Livingston and San Augustine. Our physicians pride themselves on delivering exceptional health care via the latest in technology and patient comfort. The Memorial Clinics specialties include Family Practice, Obstetrics & Gynecology, Women's Health, Cardiology, Cardiovascular and Thoracic Surgery, General Surgery, Infectious Diseases, Gastroenterology and Hepatology, Internal Medicine, Physical Medicine & Rehabilitation, Allergy/Otolaryngology (Ear, Nose & Throat), and Chiropractic Care. Memorial Clinics accepts Medicare, Medicaid and most private insurance. Visit memorialclinics.com to learn more about our physicians and connect with the personalized patient portal.
St. Luke's Health-Memorial is part of Catholic Health Initiatives (CHI), a national nonprofit health system based in Englewood, Colorado. The faith-based system operates in 18 states and includes 103 hospitals, as well as long-term care, assisted- and residential living communities; community health services organizations; home health agencies and outpatient facilities and services.
Publish date:
Tuesday, January 10, 2017
Find a Doctor
---
Looking for a doctor? Perform a quick search by name or browse by specialty.