St. Luke's Health Memorial invests $4.5 million in Temple Cancer Center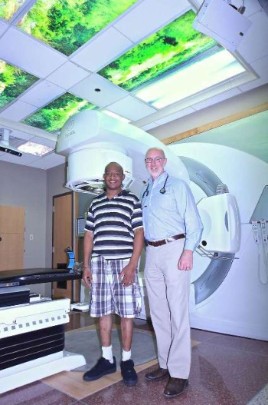 A $4.5 million investment by St. Luke's Health Memorial is bringing enhanced cancer treatment to East Texas through state-of-the-art equipment and innovative procedures aimed at providing more options for patients.
Jerry Cole, 48, of Lufkin, was the first patient to receive radiation therapy on the new Elekta Synergy linear accelerator. He is being treated for glioblastoma multiforme, a type of non-metastatic primary brain cancer.
Patients, like Cole, currently being treated with intensity modulated radiation therapy, or IMRT, now receive their treatment in a fraction of the time, often less than five minutes per treatment, said Temple Cancer Center Medical Director Sid Roberts MD, FACR. Standard treatments commence even faster with additional precision and less dose to surrounding normal tissues, which means fewer side effects.
In addition to the new linear accelerator, the Temple Cancer Center staff has installed and implemented several pieces of innovative technology, including a Toshiba large bore CT scanner, Vision RT image guided radiation alignment technology, and other accessories and software upgrades.  The multi-year project to upgrade the Cancer Center's equipment involved intense research on various models of machinery, site visits to other cancer centers, renovation to the linear accelerator vault within the Temple Cancer Center, installation of new equipment and computer software, and weeks of staff training.
Dr. Roberts says the new technology also allows for a new procedure to be performed at the center.    Soon he hopes to introduce a procedure to the region that will benefit patients suffering from certain tumors in critical locations. Stereotactic body radiosurgery, or SBRT, delivers high doses of radiation over very short courses of treatment requiring finer tuning and more rapid delivery. A particular set of patients who will benefit from SBRT is early lung cancer patients for whom surgery is not an option.
"The utility of the technology for lung cancer cannot be overstated. Lung cancer is almost always related to smoking, and heavy smokers often cannot undergo surgery because they do not have enough normal lung function to survive removal of even a small part of a lung," Dr. Roberts said. "However, these same patients can often be cured with SBRT. With low-dose CT lung cancer screening, we anticipate finding more cases of early lung cancer. Now we have the ability to treat them even if they cannot have surgery, with equal results and less morbidity."
In the future, this same procedure also will be implemented for patients diagnosed with small brain tumors. "Treating tumors such as these in an outpatient setting without having to resort to major chest or brain surgery is a remarkable benefit of this new technology," Dr. Roberts said.
In February of this year, the staff began utilizing the new Toshiba large bore CT scanner, technology that allows for more precision and the ability to scan patients weighing up to 660 pounds contributing to the success of radiation therapy treatment planning and delivery.
"To say, 'We got a new piece of equipment,' understates what we've accomplished for our patients," Dr. Roberts said. "It was no small task, but it recognizes the importance of exceptional cancer treatment to our region and signals that St. Luke's Health Memorial will remain the regional hub for cancer care in deep East Texas."
Publish date:
Tuesday, April 14, 2015
Find a Doctor
---
Looking for a doctor? Perform a quick search by name or browse by specialty.