St. Luke's Health Memorial Livingston Breaks Ground on New ER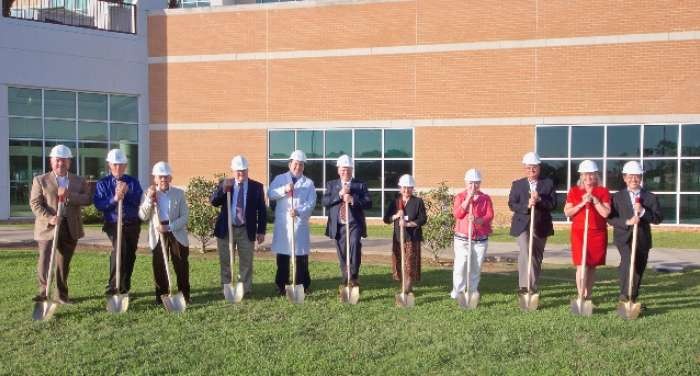 St. Luke's Health Memorial Livingston officially broke ground on its new Emergency Department on April 27.
The new 16,000-square-foot facility will be located on the ground floor of the South Tower Building. It will include 27 stations, including 3 trauma rooms, 3 fast track rooms, 2 psych rooms, 10 exam rooms, 1 isolation room, 6 results-waiting stations, and adjacent radiology, ultrasound and CT rooms. There will also be designated areas for disaster response and decontamination.
The new facility will be more than two-and-a-half times the size of the exisiting ER, said St. Luke's Health Memorial Livingston President Randy Slack.
"Our Level IV Trauma-designated emergency department sees nearly 30,000 patients each year. That's a lot of broken bones, heart attacks, strokes and other significant emergencies, and that's a lot of families who deserve the very best emergency care," Slack said. "Our staff members in the Emergency Room are highly skilled and with this new state-of-the-art facility, they will be even more prepared to provide emergency life-saving measures to our patients."
The official groundbreaking ceremony was held April 27th from 5:30 p.m. to 7 p.m.
Estimated at a total cost of $10.2 million, St. Luke's Health plans to begin construction in May with a completion date in early 2017. Phase 2 of the construction project will include an outpatient Imaging Center.
Publish date:
Monday, May 02, 2016
Find a Doctor
---
Looking for a doctor? Perform a quick search by name or browse by specialty.