St. Luke's Health-Memorial Livingston ED Participates in Infectious Disease Training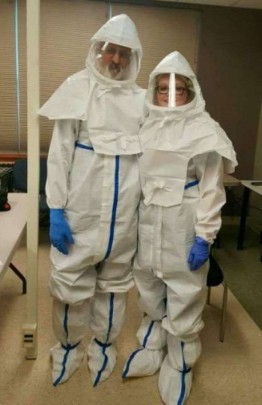 The St. Luke's Health-Memorial Livingston Emergency Department, local EMS and Southeast Texas Regional Advisory Council (SETRAC) teamed up this month to provide highly specialized training on how to stay safe when caring for patients with extremely infectious diseases.
Organized by the Texas Department of Health, SETRAC provides support to surrounding trauma centers like Livingston with free training, as well as resources and supplies in the event of a disaster or major trauma situation.
Memorial Livingston's Emergency and Trauma Coordinator Karen Pollard said Tetra Technologies and SETRAC recently trained her team, along with local EMS, on how to use High Consequence Infectious Disease Personal Protective Equipment (PPE). Pollard said the head-to-toe white suits would only be used if a patient arrived at the hospital showing symptoms of a highly infectious disease, such as Ebola.
"The older suits we currently have are hot and heavy, and we can only wear them for an hour or so," Pollard said. "But we can stay in these newer suits for 5 to 6 hours in order to take better care of not only our patient, but our staff, as well."
Pollard said it's important for her team to be involved with continuing education, and organizations like SETRAC help make that possible.
"(SETRAC) can bring us the resources we need. It's a great program for rural hospitals like ours," Pollard said. "And I always invite our local first responders to join us in training, because we work together as a team every day, and especially during trauma and disaster situations."
Publish date:
Monday, April 03, 2017
Find a Doctor
---
Looking for a doctor? Perform a quick search by name or browse by specialty.