St. Luke's Health Memorial Livingston Graduates Inaugural Sacred Vocation Classes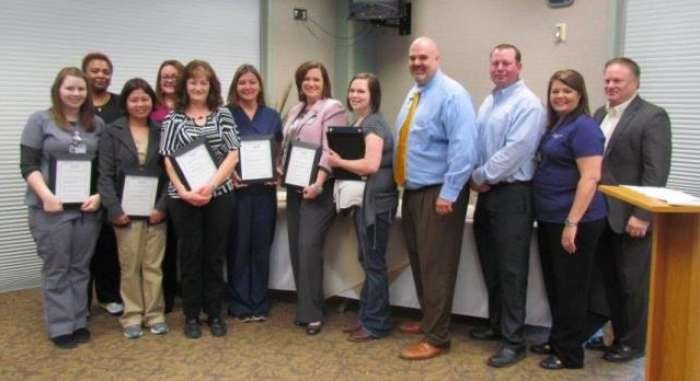 The word "vocation" comes from a Latin word meaning "a calling." The staff at St. Luke's Health Memorial recognizes their calling to care for the sick and dying is a sacred one.
This year, Memorial implemented a program through Catholic Health Initiatives called "Sacred Vocation," which brings together a small group of employees from different departments to focus on creating a sacred workplace and enhancing the overall patient experience.
The class members spend an hour each week discussing the gifts God has given them and how they can use those talents and abilities in their everyday life. Each group of participants works to develop an oath committing to healing others and all participants take the oath together upon graduation. So far, two classes have graduated from the Livingston program with many more to come.
"This program was developed to create a sense of spiritual and emotional well-being for those who work closely with patients and their families," said Chris Beasley, St. Luke's Health Memorial Livingston Imaging Director and Sacred Vocation Facilitator. "The program's focus is for healthcare workers to experience meaning in their daily work – as a part of a sacred healing team – and in their personal lives. It is based on the idea that if healthcare staff members are to value and nurture patients and their families, they must be valued and nurtured themselves."
Publish date:
Wednesday, April 27, 2016
Find a Doctor
---
Looking for a doctor? Perform a quick search by name or browse by specialty.