St. Luke's Health Memorial Livingston Recognizes its Surgical Technologists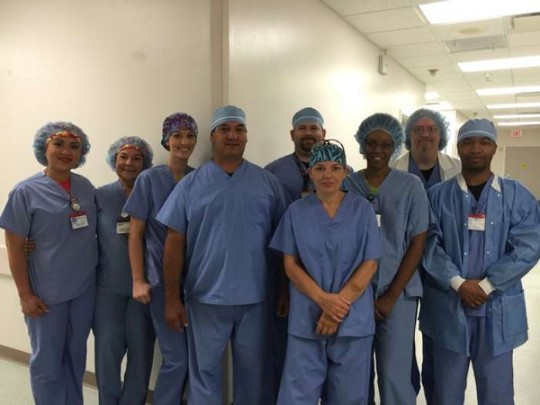 As members of the operating room team, the role of a surgical technologist is very complex and necessary for a seamless surgery. St. Luke's Health Memorial Livingston acknowledges and honors the hard work and dedication of these professionals who greatly contribute to the success of thousands of surgeries performed in Livingston each year.
A surgical technologist's job begins prior to surgery by preparing the operating room and the patient, setting up surgical instruments, equipment and supplies, creating and maintaining a sterile environment, and ensuring all equipment operates effectively.
During the surgery, the technologist remains alert, anticipating the needs of the surgeon by passing instruments and providing needed supplies, providing solutions and medications to the surgeon, receiving tissue specimens and ensuring there are no breaks in sterile technique in order to prevent the patient from acquiring a surgical site infection. The technologist must have outstanding communication skills.
Surgical technologists are an important asset to the St. Luke's Health Memorial Livingston surgery team. The demand for degree-credentialed surgical technologists continues to rise and a career as a surgical technologist can be very rewarding.
The Livingston surgical technologists include Glaishan Peters, Scrub Tech I; Lavina Rollins, Scrub Tech I; Kaleigh Powell, Scrub Tech II; Oscar Munoz, Scrub Tech II; David Kicak, Scrub Tech I; Ranessa Cook, Scrub Tech II; Fonda Hubert, Scrub Tech I; Patrick Warren, LVN Scrub Tech; and Desmond Armstard, Scrub Tech II.
Publish date:
Wednesday, September 23, 2015
Find a Doctor
---
Looking for a doctor? Perform a quick search by name or browse by specialty.