St. Luke's Health-Memorial Lufkin Delivers Nationally Recognized Stroke Care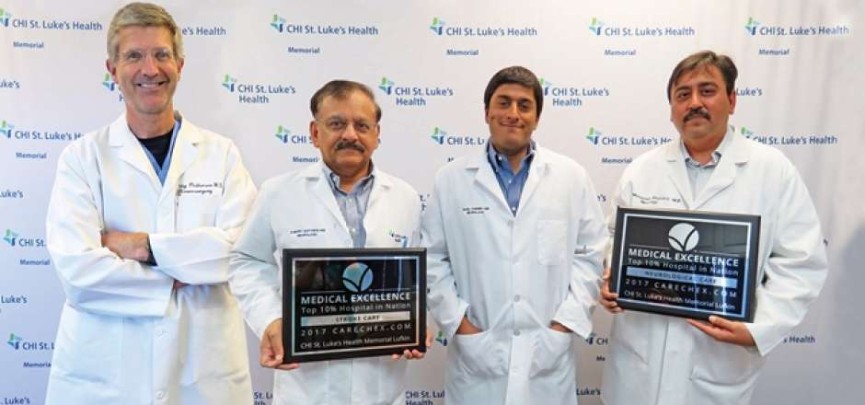 A Groveton man is walking and talking again after a stroke left him temporarily paralyzed and speechless. Kenneth Pangburn was admitted to St. Luke's Health-Memorial over the Easter weekend, suffering from atrial fibrillation. That Monday, during a scheduled heart catheterization procedure, Pangburn suffered a stroke.
"We were told by the cardiologist that a stroke could be an unfortunate risk during a heart cath," his wife, Brenda Pangburn said. "We never thought it would happen to us, but we were very pleased with the way the nurses and doctors took quick action to reverse the stroke."
The designated stroke team at St. Luke's Health worked collaboratively with the cardiac team to identify the issue and administer tissue plasminogen activator (tPA), the only FDA-approved acute treatment for ischemic strokes. When given promptly, this medication can save lives and reduce the long-term effects of stroke.
Which is exactly what happened for Pangburn.
"If you saw him that first day and then see him now, you would not believe it's the same person," Brenda said. "It's amazing the change we see in him every day. We have friends that say, 'It's unbelievable the difference.' He's really come a long way."
Pangburn spent a week in the hospital's inpatient rehabilitation program receiving Speech, Occupational and Physical Therapy. He now receives Speech and Occupational Therapy at the Memorial Outpatient Therapy Center two times a week as he works on his vocabulary and "finding his words," his wife said.
Stroke is the fifth leading cause of death in the United States after heart disease and cancer and is the leading cause of disability in the U.S. Each May, the nation recognizes Stroke Awareness Month. However, the physicians and staff at St. Luke's Health-Memorial recognize the need for quality stroke care all year long. In East Texas, the prevalence, incidence, and mortality rates from stroke are up to four times higher than the national average. St. Luke's Health-Memorial's highly trained and experienced stroke-care team, which includes on-staff neurologists and neurosurgeons, offers excellence in stroke care and hope to the people of our community.
St. Luke's Health-Memorial is home to the first and only Joint Commission Certified Stroke Care Center in East Texas and a Primary Level II Stroke Facility in trauma service. Undergoing a rigorous onsite review, the healthcare facility's compliance with stroke-related standards and requirements was evaluated by Joint Commission experts who determined the hospital's achievement of the strict criteria maintained by national organizations.
"We pride ourselves on delivering quality care specific to patients with cerebrovascular events," said Sunil Cherry, M.D., Medical Director for the CHI Stroke Program. "Our dedicated stroke-care team takes this disease seriously and works diligently to provide the services our community deserves. We are committed to attaining high standards of care, and independent quality evaluations demonstrate how we are achieving that goal."
Since the inception of the stroke program in 2010, CHI-Memorial has earned nearly every honor and award possible at the state and national level.
Along with the stroke certification, Memorial earned the Joint Commission's Gold Seal of Approval® and the American Heart Association/American Stroke Association's Heart-Check Mark for Advanced Certification for Primary Stroke Centers. This year, Memorial was named among the top 10 percent of hospitals in the nation for medical excellence in neurological care and stroke care by CareChex®, an information service of Quantros, Inc. CareChex provides clinical, financial, and patient satisfaction findings to consumers, providers, and purchasers of U.S. medical care. Unlike other publicly available quality ratings, CareChex provides a composite evaluation of all components of medical quality including process of care, outcomes of care, and patient experiences. For access to provider quality ratings, visit https://www.CareChex.com.
St. Luke's Health also received the 2017 Women's Choice Award as one of America's Best Stroke Centers. Because women account for 90% of all family healthcare decisions, there is no stronger consumer segment than women. The Women's Choice Award names the best healthcare providers that women can trust based on what matters most to them.
To earn the prestigious title as one of America's Best Stroke Centers, Memorial had to meet strict disease-specific requirements, clinically specific requirements, and high expectations, such as a standardized method of delivering care, tailored treatment and intervention to individual needs, patient recommendation scores above the national average, and rank in the top 80 percent of hospitals across the nation on time from the emergency department arrival to head CT scan results and the time from first symptoms to receiving thrombolytic therapy.
In order to provide the best care, St. Luke's Health has CT technology designated specifically for stroke patients, 24-hour Radiologist service, a dedicated Stroke unit on campus, full rehabilitation services, including physical, speech and occupational therapy, and neurosurgical physicians and neurologists on staff.
"Providing excellent care is only possible with our outstanding physicians and staff. We are extremely grateful for their ability to care for patients in such an exceptional manner," Dr. Cherry said.
Publish date:
Monday, May 22, 2017
Find a Doctor
---
Looking for a doctor? Perform a quick search by name or browse by specialty.