St. Luke's Health Memorial Lufkin Graduates Inaugural Sacred Vocation Class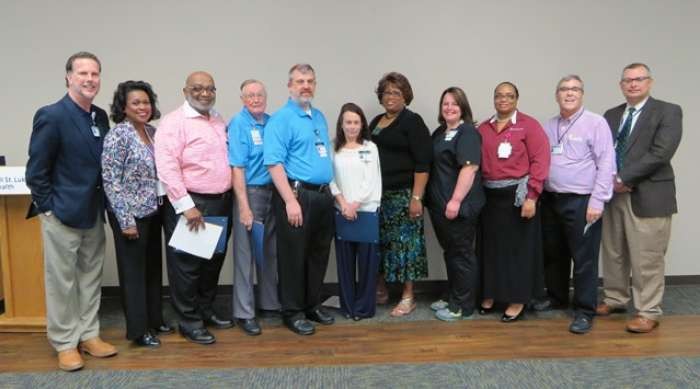 The word "vocation" comes from a Latin word meaning "a calling." The staff at St. Luke's Health Memorial recognizes their calling to care for the sick and dying is a sacred one.
This year, Memorial implemented a program through Catholic Health Initiatives called "Sacred Vocation," which brings together a small group of employees from different departments to focus on creating a sacred workplace and enhancing the overall patient experience.
During an oath ceremony on April 26, the inaugural class at Memorial Lufkin recited their personally designed commitment to maintaining the ideals of Sacred Vocation.
"I consider my work a Sacred Vocation based on the love of God in Christ, therefore, I will:
Treat others with kindness, respect, reverence, dignity and compassion;
Focus on the positive and display a positive attitude in the midst of negative circumstances with patients and my coworkers;
Display a Godly heart, putting others above myself;
Respect patients and staff as I wish to be respected;
Refer to patients by their name, not their room number when appropriate;
Cherish each moment to do good to those I come in contact with each day."
"I am so thankful that we have this program.  As a facilitator there is nothing more rewarding than to see the immediate impact the Sacred Vocation Program has on the participants' lives – both work and personal – and to know that you are helping them pay forward something that is bigger than all of us," said Sacred Vocation Facilitator and Director of Community Outreach Tina Alexander-Sellers.
The seven class members spent an hour each week discussing the gifts God has given them and how they can use those talents and abilities in their everyday life.
"I've been awakened to know I must make the most of every opportunity to seize the moment and make a positive impact on someone's life," said Veda Curl, who works in the Admissions Department. "I look for that now every day."
Jennifer Frost, who works in Rehabilitation, said most healthcare providers ultimately chose this profession to help others, and the Sacred Vocation class encouraged that ideal.
"This was a distinct reminder of why I do what I do," Frost said. "Every time I go into that patient's room, I want to give them the best of myself."
Publish date:
Thursday, April 28, 2016
Find a Doctor
---
Looking for a doctor? Perform a quick search by name or browse by specialty.