St. Luke's Health Memorial Lufkin named as one of America's Best Hospitals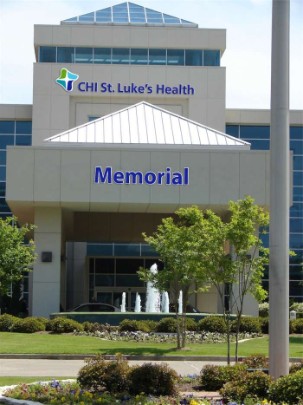 When it comes to health care – deciding which doctor to see on a regular basis, when it's time to head to the Emergency Room and which hospital to go to – women account for 90 percent of all decisions for themselves and their loved ones. That's why St. Luke's Health Memorial Lufkin takes great pleasure in announcing it received the 2016 Women's Choice Awards for being one of America's Best Hospitals for Patient Safety and one of America's Best Stroke Centers.
These evidence-based designations are the only patient safety awards that identify the country's best health care institutions based on robust criteria that considers female patient satisfaction, clinical excellence and what women say they want from a hospital.
"The Women's Choice Awards, both for Patient Safety and Stroke, provide us with the opportunity to highlight the exceptional care we provide every day. Our patients are always top priority as we continually strive to enhance our level of care," said Shawn Barnett, St. Luke's Health Memorial Chief Operating Officer and Lufkin President. "When you visit the hospital, you want to know you and your loved ones are receiving the very best care from knowledgeable and compassionate physicians and staff members. These awards assure our patients that's what you're getting at St. Luke's Health Memorial."
When facing hospital treatment or surgery, an important concern is if the hospital has a good record of protecting their patients from unintended problems. The Women's Choice Award Best for Patient Safety identified St. Luke's Health Memorial as having exceptional performance in limiting a wide range of hospital associated infections and complications from surgery and medical treatment.
"Improving patient safety is not only a matter of error prevention, it's a focused effort to create the safest patient experience." said Delia Passi, Founder and CEO of the Women's Choice Award. "Together we can empower women to make the best healthcare choices."
Stroke is one of the leading causes of death and disability in America and choosing the best hospital can greatly increase health outcomes. St. Luke's Health Memorial was selected from 1,120 centers that are certified as either an Advanced Primary Stroke Center or Advanced Comprehensive Stroke Center.
In addition to female patient satisfaction, hospitals earning the America's Best Stroke Center designation must meet the high standards of the Joint Commission and American Heart Association (AHA) and American Stroke Association (ASA).
Memorial's Primary Care Stroke Center program was originally certified in 2010 and aimed to decrease the number of strokes in East Texas through a widespread community education program and advanced treatment modalities, while helping restore quality of life for those who have suffered a stroke. As the first and only Joint Commission Certified Primary Care Stroke Center in East Texas, Memorial once again earned the National Gold Seal of Approval for Stroke Care in 2015.
Our stroke program has been repeatedly recognized by the Joint Commission, the American Stroke Association, and many others, for providing evidence-based, quality care which demonstrates the greatest level of commitment to the patients of deep East Texas," Barnett said.
St. Luke's Health Memorial has also received the Women's Choice Award as one of America's Best Hospitals for Orthopedic Care and one of America's Best Hospitals for Cancer Care in 2015.
Publish date:
Monday, January 18, 2016
Find a Doctor
---
Looking for a doctor? Perform a quick search by name or browse by specialty.