St. Luke's Health Memorial Lufkin Recognizes Perioperative Nurses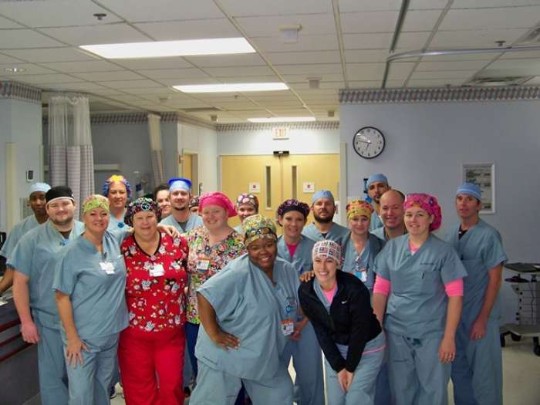 Maintaining a sterile environment in the operating room, monitoring the patient during surgery, and coordinating care throughout a patient's surgery are just a few of the responsibilities of Perioperative (Peri-op) Nurses or Operating Nurses.  St. Luke's Health Memorial Lufkin recently recognized the Perio-op Team (left to right) Charlotte Johnson, Ancillary Tech; Josh Parrot, CST; Stefanie Vaughn, CST; Jaime Smith, RN; Leslie Friday, LVN; Rhonda Winebrenner, Scrub Tech; Tyson Hines, CST; Angie Locke, Anesthesia Tech; Melinda Thompson, RN; Kathy McNeese, RN; Shawn Gilmore, CST; Crystal Wilson, CST; Jesika Morgan, CST; Greg Rowell, RN; Kristie Moody, RN; Hani Qamhieh, CSTFA; Chris Drahos, RN; Jamie Flournoy, Scrub Tech and Shane Waller, RN, CNOR during National Perioperative Nurses Week. 
Publish date:
Thursday, December 04, 2014
Find a Doctor
---
Looking for a doctor? Perform a quick search by name or browse by specialty.