St. Luke's Health-Memorial Offers Interactive Training for World's Smallest Heart Pump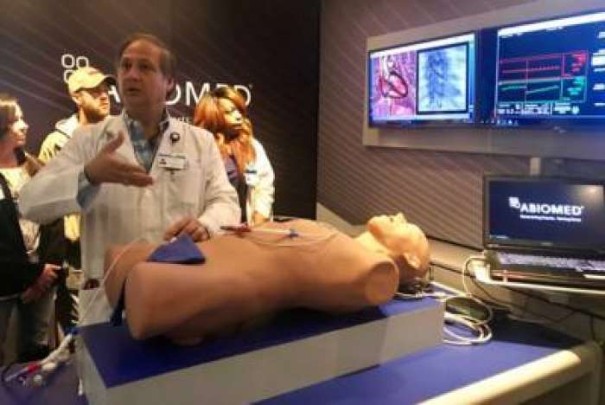 Kevin Hudson, M.D., an Interventional Cardiologist with the Heart Institute of East Texas, demonstrates how the world's smallest heart pump, the Impella ®, is used during minimally invasive cardiovascular procedures to pump blood from the heart to the body's vital organs.
The world's smallest heart pump is making a big difference in the way St. Luke's Health-Memorial and local interventional cardiologists treat patients experiencing heart attacks or who have severe heart damage. On Friday, November 10, the Abiomed Mobile Learning Lab offered an unrivaled hands-on, simulated learning experience in prepping, positioning and inserting the Impella®, a device used during minimally invasive cardiovascular procedures to pump blood from the heart to the body's vital organs.

The 90-foot-long truck offered a rare opportunity for physicians and members of the clinical staff to see firsthand how the device works. The mobile lab from device maker Abiomed provided a convenient opportunity to learn about the Impella platform and how these heart pumps are used for patients in critical need of cardiac support.

Inserted through a catheter, the Impella device assists the pumping function of the heart during an interventional procedure, allowing less stress to the weak and enlarged heart muscle. Utilizing the device, Lufkin cardiologists are able to keep more vulnerable patients close to home for their procedures.

The Abiomed Mobile Learning Lab is a highly interactive, facilitated learning experience that was brought directly to St. Luke's Health-Memorial. The lab contained various Impella simulators, animations and key information, all presented by a team expert trainers.

Interventional Cardiologist Amir Solhpour, M.D., with the Heart Institute of East Texas, said the Mobile Learning Lab provided a way for the St. Luke's Health clinical staff to enhance their learning curve about the device.

"A lot of the procedures in which we use the Impella device are done in an emergent situation, but it is still very important for nurses to understand how the pump actually works and how to manage the patient's care following a procedure," Dr. Solhpour said. "With this Learning Lab, our nurses can learn new procedures step-by-step in a non-emergency situation. This also helps them explain the plan of care more clearly to the patient."

Interventional Cardiologist Kevin Hudson, D.O., with the Heart Institute of East Texas, gave a demonstration Friday morning on how the device works, stressing the importance of continuing education for nurses and staff.

"This device is used not only in the interventional cath lab, but it can also maintain the heart's function after a procedure in several cases. So education is not only important  for our cath lab team, but for our nurses in the ICU or PCU. We want everyone to understand what the Impella is, how it works and how to troubleshoot any issues that may arise," Dr. Hudson said.

Having the opportunity to experience and learn more about one of the most innovative cardiology technology solutions available was important to St. Luke's Health.
"The people of our community deserve the best therapies available, and this hands-on learning experience ensures we are able to effectively use these devices across the continuum of care provided in our hospital," said Monte Bostwick, St. Luke's Health-Memorial Market CEO.

Having extensive training with Impella placement in the past, Dr Solhpour performed the area's first procedure using the Impella device at St. Luke's Health. He has since performed several more similar procedures, all with positive outcomes for his patients.
"There is almost no cardiovascular procedure on coronary arteries or arteries of the lower extremities that physicians in Houston and the Medical Center can do that we cannot do in Lufkin. Even the most complicated cases can be done here," Dr. Solhpour said. "When a high risk procedure is performed on the heart, it is important for the patient to follow up with their physician on a regular basis. If there are any complications following the procedure, we can offer help right away. That's a great opportunity for residents of Angelina County and surrounding areas."
The Impella heart pump is approved by the FDA as safe and effective for heart recovery in patients with advanced heart failure requiring Protected PCI, or patients in cardiogenic shock due to a heart attack.
Publish date:
Tuesday, November 21, 2017
Find a Doctor
---
Looking for a doctor? Perform a quick search by name or browse by specialty.