St. Luke's Health-Memorial Welcomes New OB/GYN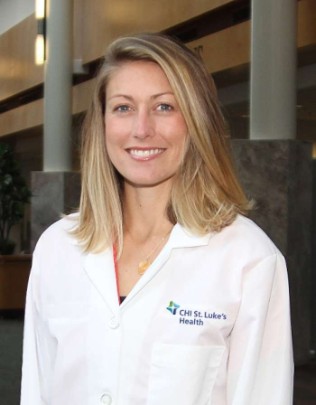 St. Luke's Health-Memorial welcomes Obstetrician and Gynecologist Rachael Sullivan, D.O. to the medical staff in Angelina County and the Memorial Clinics team.
Dr. Sullivan specializes in routine and high risk obstetrics, robotic and minimally invasive gynecological surgery and Urogynecology.
She comes from Doctor's Hospital in Columbus, Ohio, where she was the Resident Physician in Obstetrics and Gynecology. Dr. Sullivan received her Doctor of Osteopathic Medicine degree from Lake Erie College of Osteopathic Medicine and her Bachelor's degree from San Diego State University.
"We look forward to working with Dr. Sullivan as we continue to grow and enhance our Women's Services program at St. Luke's Health-Memorial," said Memorial COO & Lufkin President Shawn Barnett.
Dr. Sullivan is now seeing patients at 1111 W. Frank Avenue Ste. 301, located on the St. Luke's Health-Memorial Lufkin campus. Patients can schedule an appointment by calling 936-631-6771. Her office hours are Monday through Thursday from 8 a.m. to 5 p.m. and Friday 8 a.m. to noon.  Her office accepts most major insurance, Medicare and Medicaid.
St. Luke's Health Memorial Clinics, a division of St. Luke's Health, employs more than 30 providers in 17 locations across East Texas, including Lufkin, Livingston and San Augustine. Our physicians pride themselves on delivering exceptional health care via the latest in technology and patient comfort. The Memorial Clinics specialties include Internal Medicine, Cardiology, Physical Medicine & Rehabilitation, Cardiovascular & Thoracic Surgery, Obstetrics and Gynecology, Family Practice, Ear, Nose & Throat and Chiropractic care. Memorial Clinics accepts Medicare, Medicaid and most private insurance. Visit memorialclinics.com to learn more about our physicians and connect with the personalized patient portal.
Publish date:
Friday, August 12, 2016
Find a Doctor
---
Looking for a doctor? Perform a quick search by name or browse by specialty.