City Proclaims February 25 Alice "Faye" Russ Day for St. Luke's Health Memorial Chef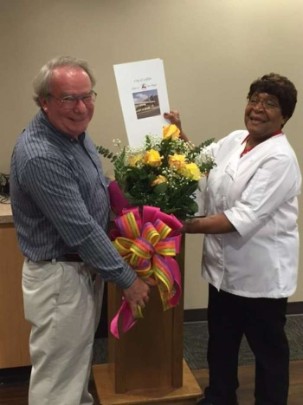 Alice "Faye" Russ, a local legend inside the massive kitchen at St. Luke's Health Memorial Lufkin, recently celebrated 55 years on the job.
In honor of her dedicated service to preparing food for the patients, guests and staff of St. Luke's Health Memorial, the City of Lufkin proclaimed Thursday, February 25, 2016, Alice "Faye" Russ Day. St. Luke's Health Memorial COO and Lufkin President Shawn Barnett presented the proclamation to her Thursday morning along with a bouquet of flowers from General Manager of Food Services Michael Hodgkin and staff.
As the morning chef serving more than 400 meals each week day, Ms. Faye works harder than most half her age.
"She does a tremendous amount of work in a short amount of time," said Hodgkin. "When I pull up to work in the morning, and I see her car already in the parking lot, I know it's going to be a good day. I know Ms. Faye has everything covered, and I don't have to worry about a thing."
In 1961 – just 12 years after the hospital first opened its doors – Ms. Faye began washing dishes at the age of 18. With a love of food, a lot of hard work and a can-do spirit, Ms. Faye worked her way up in the kitchen and now serves as the morning chef with the hospital's food service company, Sodexo.
She certainly knows her way around the kitchen.
"She has her prep area, her racks in the oven. Everyone knows not to mess with Ms. Faye's area," Hodgkin said.
Arriving at 5 a.m. Monday through Friday, Ms. Faye prepares breakfast for 250 patients, lunch for another 150 patients and anything consumed in the cafeteria during breakfast.
She has retired three times already, but keeps coming back to the place and people she loves.
"I can taste something and tell you it's not right. Around here, if anybody wants to know if it's right, all they have to do is call Ms. Faye. And sometimes there's both spoons coming from both sides," Russ said.
Publish date:
Friday, February 26, 2016
Find a Doctor
---
Looking for a doctor? Perform a quick search by name or browse by specialty.