It's a New Year and losing weight or just getting in better shape is on the minds of many East Texans.  Memorial, The Arthur Temple Sr. Regional Cancer Center and Livewell Athletic Club have teamed up to jumpstart your fitness routine while helping local needy cancer patients.  The second annual Zumba Marathon is scheduled for Saturday, January 28 from 9 a.m. to 12:30 p.m. at Livewell.
"You are invited to party yourself into shape at our Zumba Marathon," said Yana Ogletree, Director of Marketing & Public Relations for Memorial. "Zumba is an exhilarating, effective, easy-to-follow, Latin-inspired, calorie-burning dance fitness-party, and  is the only Latin-inspired dance fitness program that blends red hot international music and contagious steps for a "fitness party" that is downright addictive."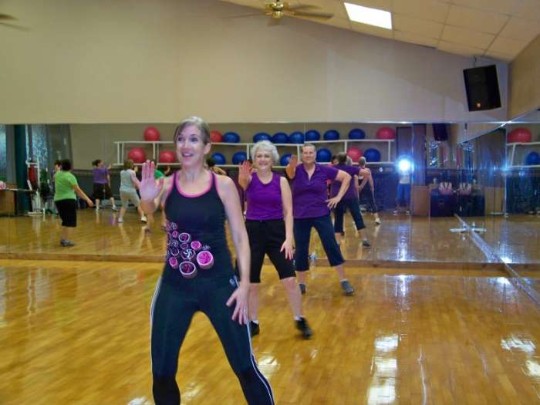 According to Ms. Ogletree, you do not have to be a member of Livewell Athletic Club to participate; however, a $25 entry fee is required with all proceeds benefiting area cancer patients.  "The funds we raise from the Zumba Marathon will help cancer patients purchase medication, provide transportation to and from the Center for treatments, or perhaps provide overnight accommodations at the Joe W. Elliott House."
Participants will receive a free commemorative Zumba Marathon shirt and complimentary bottled water at the event.  The event will feature seven area Zumba instructors in a "come and go" atmosphere where participants can dance as little or as much as they want. 
Participants can burn up to 1,000 calories each hour while doing Zumba.  Ms. Ogletree says the workout focuses on the core of the body.  "Those who attend a Zumba class regularly have lost anywhere from 10-50 pounds."  The workout also tones muscles.  "Many women and men say they have never experienced results like they have with Zumba.  Participants are losing inches and at the same time feeling great."
This year's certified instructors include Sharon Miller, Cindy Mitchell and Yana Ogletree from Livewell Athletic Club; and Yanneth Castro, Eddie Matts, Jessica Gomez and Tammy Lee from Studio Fuego.  Supporting the Zumba Marathon are Memorial, KTRE-TV, First Bank & Trust, Zimmerman Communications, Studio Fuego, and Livewell Athletic Club.
For more information about the Zumba Marathon, please contact Livewell at (936) 639-5483.
Publish date:
Thursday, January 19, 2012
Find a Doctor
---
Looking for a doctor? Perform a quick search by name or browse by specialty.