Donated I.V. Poles Add to the Efficiency of Memorial Medical Center - Lufkin Emergency Department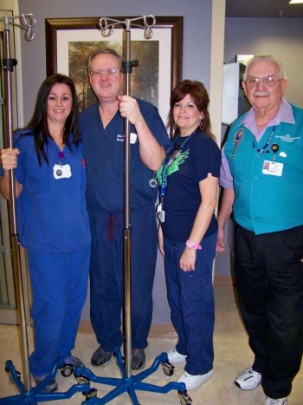 Through its ongoing fund raising efforts, The Volunteer Auxiliary at Memorial Medical Center – Lufkin, has purchased new equipment for the hospital's emergency room.  By raising money through gift shop, jewelry, book and scrub sales, the volunteers purchased 18 Heavy-Duty Aluminum Intravenous (I.V.) Pole Stands for the Emergency Department.  The new equipment enhances the efficiency and timely delivery of I.V. medications.  Karrie Stanaland, RN, ED Clinical Coordinator; Dr. John Sanders and Debby Davis, RN explain to Don Newland, President of the Volunteer Auxiliary, how the donated poles will also assist with mobile patients who are receiving I.V. fluids.  This year the volunteer group surpassed with the one million dollar mark in contributions to the hospital. 
Publish date:
Thursday, November 10, 2011
Find a Doctor
---
Looking for a doctor? Perform a quick search by name or browse by specialty.