February is American Heart Month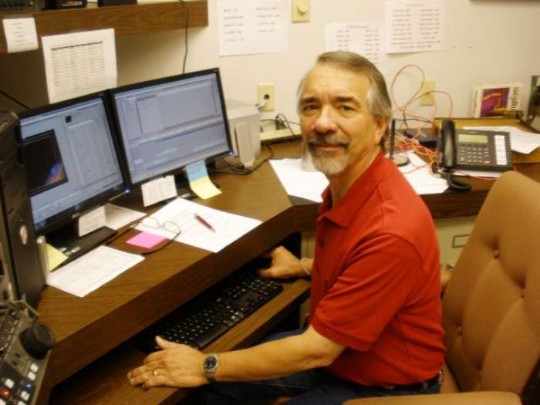 Heart disease presents differently in men and women, and sometimes the signs and symptoms can be hard to recognize. During the month of February, Memorial recognizes American Heart Month to help spread the word about the No. 1 killer in the nation.
Multiple health risk factors within the East Texas population, such as a higher prevalence of heart disease, stroke, diabetes and obesity, smoking, high cholesterol, high blood pressure and residents who do not regularly exercise, require the local health care community to be on top of the latest technology and most innovative procedures in the country – especially when it comes to cardiovascular health.
Mike Wiggins, promotions producer at KTRE-TV, has worked at the local television station for the past 31 years. Wiggins benefited from the outstanding care provided at Memorial when he needed special care for his heart.
Dr. David Ladden, a board certified cardiovascular and vascular surgeon, performed Wiggins' triple-bypass open heart surgery in June 2012. Just one short month later, Wiggins was walking in the Rocky Mountains at an altitude of 9,000 feet. Before coming to Memorial, Wiggins said he did his research and found that the Lufkin hospital and Dr. Ladden's experience were what he was looking for when it came to his heart.
"There were people who told me I needed to go to Houston to have the procedure done, but I didn't want to do that," Wiggins said. "I interviewed Dr. Ladden, and he just gave me more confidence in the procedure, both in his abilities and in the abilities of the hospital to take care of me."
In July 2012, Memorial Health System of East Texas joined the Methodist DeBakey Heart & Vascular Center (MDHVC) for a three-year program called the East Texas Heart & Vascular Initiative. The overall goal of the initiative is to elevate the level of heart and vascular care to the residents of deep East Texas by offering skills training specifically designed for the Memorial physicians and staff and educating the public about prevention of heart and vascular disease.
Dr. Ladden came to Lufkin in 2011 to serve as the medical director of the hospital's heart and vascular program. During his tenure in Lufkin, Dr. Ladden helped launch the East Texas Heart & Vascular Initiative alongside the world renowned surgeons at the Methodist DeBakey Heart & Vascular Center.
"We are so fortunate to provide state-of-the-art, quality care in our community when it comes to cardiovascular health," Ladden said. "Having the Methodist DeBakey Heart & Vascular Center's resources at our fingertips allows us, as physicians, to further train on the latest technology and procedures, as well as to provide education for our fellow East Texans. Taking care of your heart is vitally important, and we want to help the hearts of our community beat strong for years to come."
Heart disease is the leading cause of death for both men and women, but heart disease is preventable and controllable, according to the Centers for Disease Control and Prevention.
Heart attack symptoms
The five major symptoms of a heart attack are
• Pain or discomfort in the jaw, neck, or back.
• Feeling weak, light-headed, or faint.
• Chest pain or discomfort.
• Pain or discomfort in arms or shoulder.
• Shortness of breath.
• If you think that you or someone you know is having a heart attack, call 9–1–1 immediately.
Publish date:
Thursday, February 14, 2013
Find a Doctor
---
Looking for a doctor? Perform a quick search by name or browse by specialty.