Heart and Vascular Initiative Donates CPR, AED kits to LHS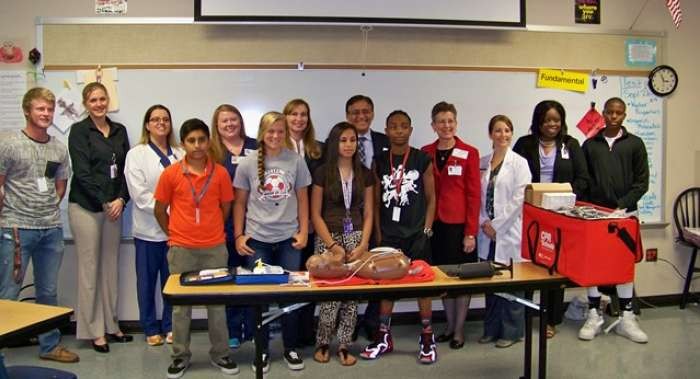 When time is of the essence, it only takes one person who knows CPR in order to save a life. Lufkin High School will soon have thousands of young people armed with this knowledge thanks to a local program focused on educating the community about heart and vascular care.
The East Texas Heart and Vascular Initiative, a joint project between St. Luke's Health Memorial Lufkin and the DeBakey Heart & Vascular Center at The Methodist Hospital in Houston, purchased seven cardiopulmonary resuscitation (CPR) kits and ten automatic external defibrillator (AED) kits for a total cost of nearly $6,000 to be used at Lufkin High School. The Initiative also financially supported the LHS Science teachers' training as they learned how to use the kits.
In 2013, the Texas State Legislature passed House Bill 897 requiring all 7th through 12th grade students to receive instruction in CPR and how to use an AED at least once before they graduate.
On Tuesday, September 23, members of the Heart and Vascular Initiative committee were on hand to officially donate the kits to Lufkin High School staff and students.
"We are so fortunate to partner with the East Texas Heart & Vascular Initiative and Dr. (Musa) Khan for the materials we need to provide hands-on training for our students which could ultimately save a life," said Deidra Harrison, Director of Student Services at Lufkin ISD. "We are ready to get started and are fully equipped to begin training our students."
In 2012, the T.L.L. Temple Foundation funded the Heart & Vascular Initiative grant for $3.6 million over the next three years. The overall goal of the Initiative is to elevate the level of heart and vascular care to the residents of deep East Texas.
 "The CPR in Schools program is a wonderful opportunity for the East Texas Heart and Vascular Initiative in pursuing its strategic goal of widespread community education in the East Texas region," said Suzanne Monsour, East Texas Heart and Vascular Initiative Project Manager. "Early CPR training sets the stage to capture a generation willing and able to assist in an emergency and perform life-saving measures."
According to the American Heart Association, cardiac arrest is a leading cause of death, but quickly performing CPR can double or triple a victim's chance of survival.
"We know that the 'Bystander Effect' is all too real and that survival rates for someone suffering a heart attack fall 7 percent to 10 percent for each minute without CPR," Monsour said. "Early training lays the foundation for subsequent training and retention and skills become engrained with a high level of confidence. The initiative is proud to be able to support Lufkin High School in this endeavor."
The new CPR in Schools Training Kit was developed by the American Heart Association as an easy, hands-on learning experience for high school students. The kits include inflatable manikins, training DVDs, kneel mats and a training guide for the facilitator. In just 30 minutes, students will be empowered to learn the core skills of CPR, AED use and choking relief.
Publish date:
Tuesday, September 23, 2014
Find a Doctor
---
Looking for a doctor? Perform a quick search by name or browse by specialty.