HeART Day Contest Winners Announced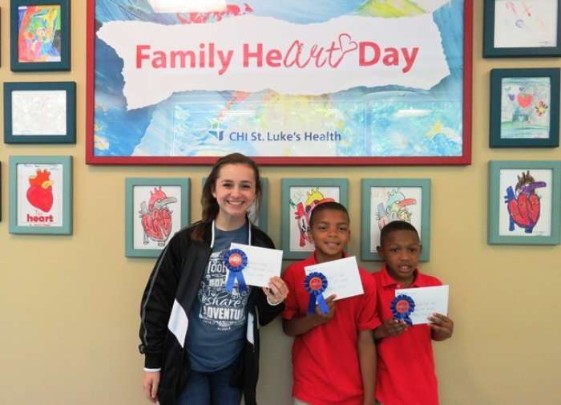 Pictured from left to right: 7th grade – High School winner Aubrey Lindsey, daughter of Tanya Lindsey; 3rd – 6th grade winner Mason Dixon, son of Tiffany Truscott; and Kindergarten – 2nd grade winner Roosevelt "RJ" Hall, son of Tiffany Truscott. The winners each received a $100 gift card.
St. Luke's Health-Memorial announced the winners of its recent Memorial Family HeART Day art contest. Children of hospital employees were asked to draw what "the heart means to them." The artwork is now hanging in the hallway between the main hospital lobby and the Heart and Stroke Center. 
According to the Centers for Disease Control and Prevention (CDC), heart disease doesn't happen just to older adults. It is happening to younger adults more and more often. This is partly because the conditions that lead to heart disease are happening at younger ages.
St. Luke's Health-Memorial hosted Memorial Family HeART Day to encourage employees and their families to learn about the risks for heart disease and the steps to take now to help their hearts.
Publish date:
Thursday, May 10, 2018
Find a Doctor
---
Looking for a doctor? Perform a quick search by name or browse by specialty.