Heart & Vascular Imaging Center Announces Outpatient Cardiac Catheterization Lab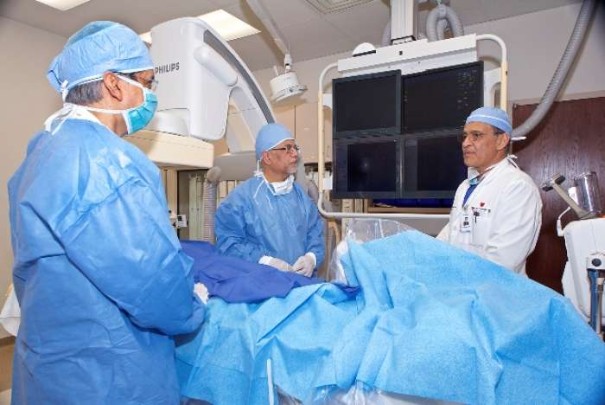 Heart disease is one the nation's most common health problems – especially in the deep East Texas area. Introducing advancements in medical technology used to diagnose this condition is more critical than ever. In an effort to provide more efficient cardiac care to area residents, St. Luke's Health Memorial Lufkin's Heart and Vascular Imaging Center in collaboration with the cardiologists of The Heart Institute of East Texas announce the opening of a new state-of-the-art cardiac catheterization lab.
The new cardiac cath lab – conveniently located at 312 Gaslight Blvd. for diagnostic outpatient procedures – was one of the first major capital investments made by St. Luke's Health after joining forces with the national organization. St. Luke's Health invested more than $1 million into the demolition and renovation of the previous cath lab site and the purchase of new equipment and software.
Dr. Ravinder Bachireddy, President of the Heart Institute of East Texas said, "This state-of-the-art Cardiac Cath Lab with exclusive features produces high quality, sharper images and delivers the lowest radiation for our patients and staff. Cardiologists of the Heart Institute of East Texas are committed to high quality cost-effective cardiovascular care here in deep East Texas. We are proud to collaborate with St. Luke's Health Memorial to bring the latest and most advanced, superior quality Cardiac Cath Lab to deep East Texas to diagnose and treat heart diseases".
"The outpatient cardiac catheterization lab investment demonstrates St. Luke's Health Memorial's strong emphasis on diagnosing and treating potentially fatal heart issues," said Shawn Barnett, St. Luke's Health COO and Lufkin President. "The outpatient location is readily available when convenience is paramount for our patients."
St. Luke's Health cardiologists are conducting minimally invasive procedures on this new system to diagnose a wide range of clinical issues including coronary artery disease – a leading cause of heart disorders in the U.S. These catheter-based procedures may reduce the risks and lengthy recovery time found in traditional surgical approaches.
Specifically, the Heart and Vascular Imaging Center cath lab utilizes the AlluraClarity FD20 X-ray system from Philips. With powerful imaging technology, the new system provides high quality imaging at low radiation levels for patients of all sizes. This fully digital system enables physicians to capture and view detailed 3D images, thereby facilitating faster and more accurate diagnosis and treatment of cardiac disease.
"Both our patients and clinicians will benefit from the speed, low-dose levels, and excellent image accuracy of this new X-ray system," said Stacy Garcia, Market Administrator for the Cardiovascular Service Line at St. Luke's Health Memorial. "It will allow our physicians to complete a variety of diagnostic procedures faster, and that means the patient is off the table and on their way to recovery and discharge much sooner. It also means less radiation exposure for the patient." 
This flexible system aids in a range of patient conditions and can be used for procedures such as diagnostic catheterizations.
Patients must have a doctor's order to have tests performed. To schedule a procedure, call 936-634-8900.
Publish date:
Friday, October 02, 2015
Find a Doctor
---
Looking for a doctor? Perform a quick search by name or browse by specialty.