Housekeepers and Environmental Services Team Recognized by Memorial Health System of East Texas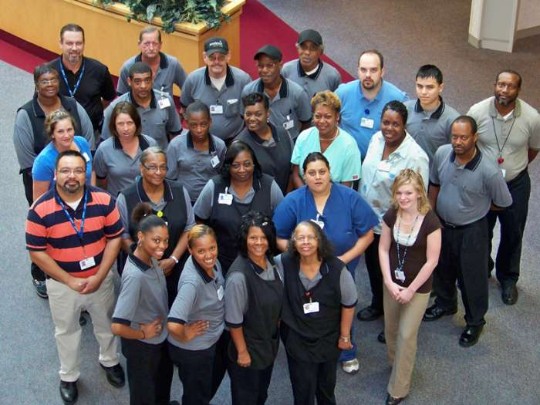 Although they usually do not have direct patient contact, the team members who keep the hospital clean are a very integral part of the patient experience at Memorial Health System of East Texas. September 12-18 is National Healthcare Environmental Services and Housekeeping Week.
This is a week set aside to recognize environmental services teams as essential personnel in the execution of infection control cleaning protocols, patient safety goals, and customer satisfaction. Memorial would like to thank (Back Row, l to r) Pat Phillips; Mike Rankin, General Manager; James Austin; Donald Beard; Ed Foster; Leroy Patton; Darrell Lathan; Joe Rains, Manager; Ibon Luna; Horace Fulton, Operations Manager (Third Row, l to r) Mattie Massingill, Supervisor; Lisa Johnson; Natash Coutee; Angela Roberts; Diedre Weathered; Linda Lee, Supervisor; Kirk Jones (Second Row, l to r) Felipe Galindo, Patient Ambassador; Ann Betts; Edna Green; Juanita Reyes; Meagan Runnels, Administrative Assistant (Front Row, l to r) Cassie Williams; Tina Collins; Nelvin Spencer and Georgia Moore for their hard work and dedication.
About Memorial Health System of East Texas
As the largest health care system in the deep East Texas area, Memorial Health System of East Texas is a private, not-for-profit hospital that provides care to almost a quarter of a million patients each year.  Since its inception in 1949, Memorial Health System has paved the way for quality, innovative health care in East Texas.  In fact, Memorial consistently ranks among the nation's best for exceptional health care and patient satisfaction. 
Memorial Health System of East Texas is comprised of four hospitals—Memorial Medical Center—Lufkin, Memorial Medical Center—Livingston, Memorial Medical Center—San Augustine, and Memorial Specialty Hospital, the only rural long-term acute care facility within the area.  Memorial offers a wide array of services, including the newly renovated Arthur Temple Sr. Regional Cancer Center, which consistently earns a three-year accreditation with commendation from the Commission on Cancer.  In 2009 the System opened the doors to the area's first dedicated heart and stroke care center—the Cardiovascular & Stroke Center of East Texas. With a partnership with The Methodist Hospital in Houston, Memorial provides an advance level of stroke care, while offering the latest in heart care from a highly trained team of heart surgeons and cardiologists. Memorial was the first health care facility in Texas to acquire the DaVinci High Definition Robot for robotic assisted procedures in heart, lungs, kidneys and gynecology.  The hospital also is known for providing the area's only comprehensive diabetes center—The Horace C. Polk Regional Diabetes Center.  Other centers of excellence include the Temple Imaging Center that offers some of the most advanced procedures in the area, including PET/CT scanning for cancer and Alzheimer's, 64 Slice CT scanning, Open Bore MRI, 4D Ultrasound, and digital mammography. Other specialty areas include Orthopedic care, Women's Services, Inpatient and Outpatient Rehabilitation, Homecare, Wound and Hyperbaric Therapy, Kidney & Diabetes Treatment, Sleep Disorders Treatment, Occupational Health and Express Lab. Memorial Health System of East Texas—founded and funded by the people it serves.
Publish date:
Friday, September 10, 2010
Find a Doctor
---
Looking for a doctor? Perform a quick search by name or browse by specialty.