Housekeepers at Memorial Medical Center - Lufkin Brighten Patients Day with Towel Animals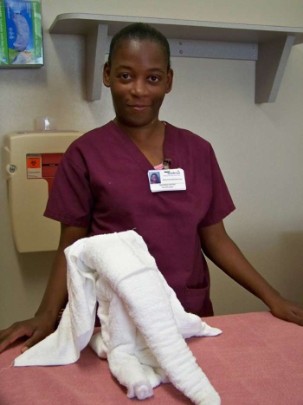 It could be an elephant, maybe a dog or even a flamingo.  Patients at Memorial Medical Center – Lufkin (MMC-Lufkin) are being treated to towel animals made by Sodexo housekeepers.  This is just one of the "extras" that the Memorial housekeeping team peforms each day to help make a patient's hospital stay a little brighter.
"We want our staff to know the patient as a person," said Mike Rankin, General Manager for Sodexo at MMC-Lufkin.  "This allows for interaction that assists in healing.  A smile builds happiness and that can be powerful medicine."
It's all part of the the Sodexo Cares, Patient Engagement Program that was recently implemented to enhance the patient's overall experience at Memorial. In addition to the towel animals, housekeepers, are delivering flowers to all new moms, celebration cards for birthdays and anniversaries, and carnations to all new patients. 
While keeping a patient's room clean is always the top priority, housekeepers also take pleasure in giving patients these simple, but special gifts.  "This is an opportunity for us as housekeepers to do more than just clean a patients room," said Natasha Coutee, housekeeper at MMC-Lufkin. "It is an opportunity to show that we really care."
Each day patients express their gratitude for the housekeepers' efforts to make them feel as comfortable as possible during their hospital stay.   One such story comes from the initiative of a floor technician Ed Foster.  This employee learned that a particular patient, who was alone in the hospital with no friends or family who could visit,  was allergic to flowers. Ed was motivated to ask  one of his fellow co-workers to help him make a towel animal for the patient. When Ed delivered the towel animal to the patient she was so happy and touched by the gesture that she named the elephant after him.
"I have seen staff really go all out to identify the patient they feel needs a little extra," said Rankin.  "It always makes people feel good inside when you can make someone's day with such a simple gesture. Sodexo employees understand that patients are going through a trying time. Naturally, we want to brighten their day in any way we can.  Putting a smile on faces of people of all ages is our goal."
Publish date:
Tuesday, September 04, 2012
Find a Doctor
---
Looking for a doctor? Perform a quick search by name or browse by specialty.