Huntington Schools Raise Money for Needy Cancer Patients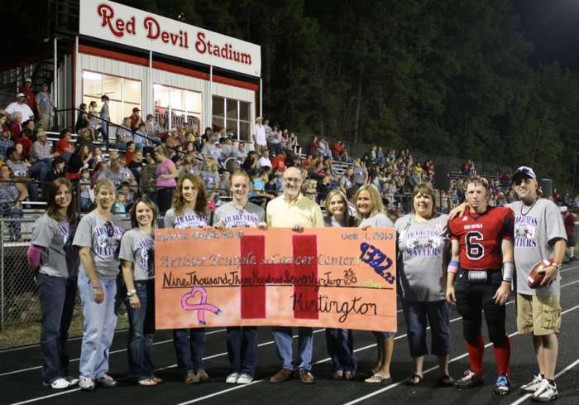 Students, faculty and staff at Huntington High School spent a week raising funds through many simple, fun and creative ways for the Temple Cancer Center at Memorial Medical Center – Lufkin.  By the end of that week, the group not only raised a large amount of money, they realized how so many small projects could make such a big impact on their community.
Dubbed "Awareness Matters," the fund-raiser brought in more than $9,300 in just one week for local cancer patients. The idea for the fund-raiser was developed by Susan Noel, cafeteria manager at Huntington High School, and Paige Hopkins, Spanish teacher at Huntington High. This was the first time the two had taken on a project and involved students in raising funds for a community agency.
"All of the students were excited to participate," Noel said. "They understand about giving back to their community." The focus of the event was to bring awareness to both breast cancer and prostate cancer.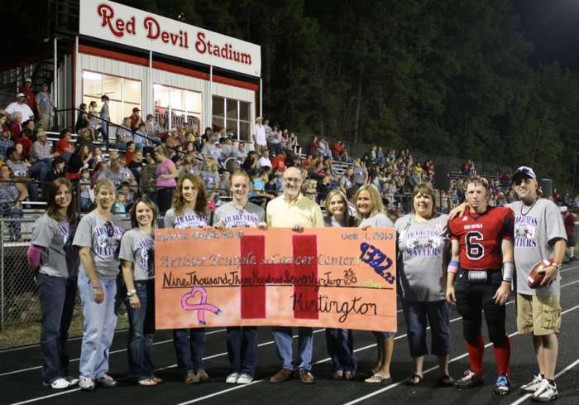 Fund-raising projects included students buying passes to wear caps and sweat pants and buying chances to hit a truck with a sledgehammer to beat cancer. There was one day of food sales, which included a teacher selling brisket sandwiches and others selling nachos and other goodies. There also were singing grams to be delivered by cheerleaders for a donation and the robotics team built a robot that delivered a "crush" for a donation. Plus chances were sold and the group that raised the most money had the opportunity to pick the administrator who would kiss a pig at the pep rally.
The week culminated Friday night, October 1, with a balloon release, reading of names of those affected by cancer and a memory walk around the field. The school also made the check presentation to Dr. Sidney Roberts, Medical Director of the Arthur Temple Regional Cancer Center during the events prior to the game.
Dr. Roberts said his team was "blown away by the unity of purpose and the all out efforts of the Huntington people in support of the Temple Cancer Center's cancer patient fund. Huntington residents truly get behind their own and support their cancer patients better than anyone. When a family the size of Huntington gets together, they can do amazing things, and our cancer patients will be the direct beneficiaries."
While the entire faculty and staff participated, the majority of the funds raised, about $7,500, came from the students.  Huntington High School Principal Jennifer Williams said it is great to see the students involved in something larger than themselves. "This year we had A.J. Noel and Shelby Williams, students whose parents have been impacted by cancer, participate Friday night. They both read a short story and were on the field for the check presentation," Ms. Williams said.
T-shirts with a design using the Awareness Matters slogan were sold. Sponsors that helped pay for the shirts were: Allen Loggins and Sons, Kustom Kreations, David T. Palmer, DDS, Huntington Sonic, Campbell Urology, AAA Trophy, Integra Insurance and Huntington State Bank.
This project was very special for Noel. Her mother is a breast cancer survivor and her husband recently completed treatment for prostate cancer. "I am very close to the cancer center," Noel said. "They have been so helpful to us. We just wanted to pay them back and be able to help everyone involved so everyone can benefit.
"I was shocked about the amount they raised," Noel said. "I estimated $5,000 to $6,000. They would not let me see the check until that night. I just could not believe the community and kids did this. It's wonderful."
Dr. Roberts said the money will be used to help provide gas vouchers, medications and supplies, as well as housing at the Joe W. Elliott House for patients who cannot afford it. None of the money goes for treatment or for the physician. "Our policy is to treat everyone regardless of ability to pay, and this fund helps with those issues (such as transportation or medications) that can be a hindrance to patients getting to or completing treatment," Dr. Roberts said.
Publish date:
Tuesday, November 09, 2010
Find a Doctor
---
Looking for a doctor? Perform a quick search by name or browse by specialty.