Improving Kidney Function with New Technology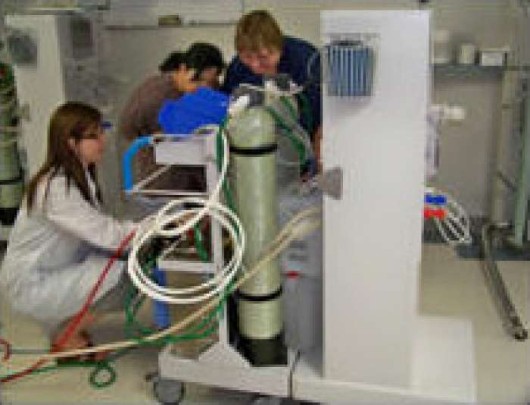 Better kidney function after major heart surgery. That is what Memorial Health System of East Texas is striving to do as it unveils the latest technology for dialysis treatment following major heart surgery. Recently the hospital system was the first in the deep East Texas area to purchase and treat patients with Continuous Renal Replacement Therapy (CRRT) machines.
CRRT filters blood through a dialysis machine at a very slow rate so that wastes are removed in the same gradual way they would be removed by the kidneys. Following surgeries such as Coronary Artery Bypass, when the patient is removed from the bypass machine sometimes the kidneys do not resume full function right away. The CRRT machine makes it possible for the kidneys to "rest and recover" until they are working more correctly so that the kidneys are not damaged permanently.
"Continuous Renal Replacement Therapy places less stress on the heart and other organs than doing dialysis over four hours with a regular dialysis machine," said Patricia Jones, Director of the Henderson Kidney Disease Center. "This decrease in stress allows CRRT to be performed sooner after surgery than traditional dialysis. The sooner the kidneys 'get a little help' the less chance they will have any permanent effects."
"As we see more complicated heart surgeries being performed here at Memorial, we realized the need for these machines," said Staci Garcia, Director of ICU at Memorial Health System of East Texas. "The more complicated the heart surgery is the more difficult it is for the kidneys to resume their normal function."
The CRRT machines are not just for use after heart surgery. They can be used for patients with Congestive Heart Failure as well as for patients experiencing Acute Renal Failure from other causes.
Publish date:
Friday, July 17, 2009
Find a Doctor
---
Looking for a doctor? Perform a quick search by name or browse by specialty.