Landmark Surgical Case Performed at Memorial Hospital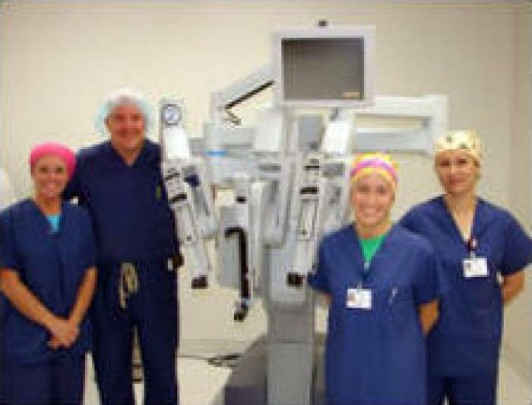 It is being called a breakthrough approach to hysterectomies. Advanced technology that is being used at Memorial Health System of East Texas is setting a new standard in this type of gynecological procedure. Utilizing the da Vinci High Definition Robot, surgeons now are performing hysterectomies with fewer complications and a quicker recovery time for the patient.
Lufkin Gynecologist and Obstetrical Surgeon, Dr. Jerry Johnson, is the first in his field locally to offer a hysterectomy using the robotic system. On Wednesday, Dr. Johnson successfully performed two hysterectomies at Memorial Health System of East Texas.
"I am extremely pleased and excited about using the Robotic System for hysterectomies," said Dr. Jerry Johnson. "The procedure is significantly easier for the patient. The two women who elected to use the Robotic System for their hysterectomies on Wednesday experienced a very minimal hospital stay, considerably less pain and very little pain medication. Additionally, they should be able to return to performing many normal activities within a week."
Surgeons perform 600,000 hysterectomies each year in the United States alone. 65% of those performed are total abdominal hysterectomies, 10% are laparoscopic- assisted vaginal hysterectomies (LAVH) and 25% are vaginal hysterectomies. Despite general preference for minimally invasive procedures, the majority of these surgeries are still performed using large incisions.
The da Vinci Robotic System is an alternative to this traditional surgical approach, which gives surgeons increased clinical capability while maintaining the same look and feel of open surgery. With this surgical system, the surgeon operates while seated comfortably at a console viewing a 3D image of the surgical field. The surgeon's fingers grasp the master controls below the display, with hands and wrists naturally positioned relative to his or her eyes. The system seamlessly translates the surgeon's hand, wrist and finger movements into precise, real-time movements of surgical instruments inside the patient.By enhancing surgical capabilities, the da Vinci Surgical System helps to improve clinical outcomes and redefine standards of care. Patients may experience the following benefits: reduced trauma to the body, reduced blood loss and need for transfusions, less post-operative pain and discomfort, less risk of infection, shorter hospital stay, faster recovery and return to normal daily activities, and less scarring and improved cosmesis.
Memorial Health System of East Texas was the first health care facility in the state of Texas to purchase the da Vinci High Definition Robot. In addition to gynecological procedures, the da Vinci Robot is being used by local Urologists performing prostatectomies. The robotic procedure has proven to be a success with patients experiencing smaller incisions, quicker recoveries, and better outcomes.
Publish date:
Friday, June 20, 2008
Find a Doctor
---
Looking for a doctor? Perform a quick search by name or browse by specialty.