Latest Technique in Hip Replacement Leads to Faster Recovery At Memorial Health System of East Texas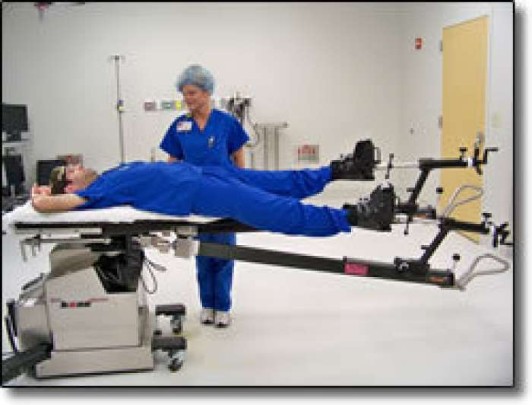 All through life, Patricia Bush experienced occasional problems with her left hip. She never thought much about it until the arthritis pain progressively became worse. Then her hip began slipping out of the socket. When she stood up, she would have to work it around until it popped back into place. That's when she decided to visit Dr. Roy Guse at Texas Specialist Center and schedule a hip replacement procedure at Memorial Health System of East Texas.
Dr. Guse immediately recognized Bush's condition. Her left hip socket never totally developed, thus causing problems her entire life. Along with the undeveloped socket, she had no cartilage in the joint, cysts were formed around it and the joint had re-fused. Dr. Guse informed Bush that she was a candidate for the new anterior approach hip replacement procedure using the HANATM Hip Arthroplasty Table at Memorial Health System of East Texas. Without a doubt, Bush agreed to the anterior approach hip replacement.
The Anterior Approach surgical procedure at Memorial Health System of East Texas allows physicians to replace the hip joint through a small incision on the front of the hip. Unlike traditional hip replacement methods, the anterior approach keeps all muscle tissue attached to the pelvis and femur. Undisturbed muscles result in no surgical trauma and do not need a healing time to recover from surgery. Anterior approach hip replacement patients require a shorter hospital stay and benefit from a faster recovery time.
"With conventional hip replacement, patients typically have an average hospital stay of 3-5 days. However, patients experiencing the anterior approach are returning home within 2-4 days of surgery," said Sondra Lovett, Orthopedic Clinical Nurse Coordinator at Memorial Health System of East Texas. "The anterior approach advantages for patients include a faster healing time because the muscle is not being cut. This allows patients to be up and moving around sooner. Also, patients have a decreased likelihood of infection in the surgical site."
Conventional hip replacement usually limits a patient's hip motion resulting in 2-4 months of recovery after surgery. Patients may have difficulty with normal activities like sitting, getting in and out of the car or climbing stairs. However, most patients utilizing the anterior approach are immediately able to bend the hip freely and bear full weight. During supervised therapy, most patients are able to climb stairs prior to hospital release. Also, most recovery times are shortened to 2-8 weeks instead of months."Having a hip replacement using the anterior approach was the best decision I have made in my whole life. From the moment I awoke from the surgery and even when I stood up the first time, I have been free of pain in the hip joint," said Bush. "In four weeks, I was back to work. My quality of life has improved ten fold."
Bush attributes her successful surgery and recovery to Dr. Guse, the staff at Texas Specialist Center and the attentiveness she received while at Memorial. "I am so grateful to everyone involved in my care. I now am able to walk without a cane, bend over and do everything better than before. Most of all, I can pick up my granddaughter! I tell everyone who will listen that the anterior approach procedure is awesome and I recommend it to anyone who qualifies," stated Bush.
If you are dreaming of a new year filled with new opportunities, ask your doctor if you are a candidate for the anterior approach hip replacement at Memorial Health System of East Texas. The Orthopedic Center of East Texas will walk with you step by step and give you the education you need to make an informed decision. For more information contact Memorial's Orthopedic Center of East Texas at 936- 631-6766.
Publish date:
Wednesday, December 23, 2009
Find a Doctor
---
Looking for a doctor? Perform a quick search by name or browse by specialty.