Learn Life Saving Skills at St. Luke's Health Memorial Livingston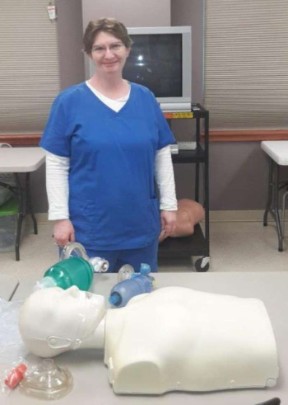 Sudden cardiac arrest is one of the leading causes of death in the United States – a statistic that could be significantly lowered with widespread cardiopulmonary resuscitation (CPR) education. St. Luke's Health Memorial Livingston places a high importance on teaching this life-saving skill with classes offered several times a month.
During cardiac arrest, the heart can no longer pump blood effectively to the rest of the body. The longer the body goes without circulation, the lower the chance of survival. By performing CPR, chances of surviving a sudden cardiac arrest can more than double.
Certified instructor Frances Palmeri has been teaching CPR in Livingston since 2005. St. Luke's Health offers classes in Basic Life Support for Healthcare Providers, Heartsaver CPR & AED training for the public, Heartsaver First Aid, Advanced Cardiac Life Support and Pediatric Advanced Life Support. Free classes are also offered for new parents.
"Simply stated, CPR is easy to learn and it saves lives," Palmeri said.
Every five years the American Heart Association releases new guidelines according to the studies for best practices.  In March, Palmeri said the hospital implemented the most recent AHA guidelines in all of the classes offered.
"Before an instructor can teach these guidelines, they have to complete Instructor updates," Palmeri said. "Upon completion of the updates, they must be approved by their training center. Instructors are required to keep their competencies through teaching and being observed and tested."
For a calendar of scheduled classes, go to CHIStLukesHealthMemorial.org and click on the News and Events tab.
Publish date:
Tuesday, May 03, 2016
Find a Doctor
---
Looking for a doctor? Perform a quick search by name or browse by specialty.