Livingston ED Now Seeing Patients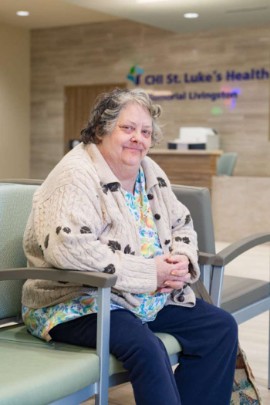 St. Luke's Health-Memorial Livingston's new 23,500-square-foot Emergency Department is officially open. The $10 million facility welcomed its first patients Monday morning after nearly two years of construction.
"I am very humbled by the support we have received so far," said Kristi Froese, Vice President of Clinical Operations at St. Luke's Health-Memorial Livingston. "This opening would not have been successful without our many staff members who spent countless hours setting up, prepping and moving everything.  This has been a long awaited and necessary event for the benefit of our community."
The St. Luke's Health-Memorial Livingston Emergency Department (ED) saw 88 patients Monday. The first patient in the new space was 63-year-old Livingston resident Rita Milton who was experiencing an elevated heart rate. Milton said she was very impressed with the new ED.
"I have been in both emergency rooms at the Livingston hospital now, and I can say it is two different worlds," Milton said. "While the care has always been great, this new ER is so beautiful! It is very reassuring to know that we have a great emergency room close to home. The highly trained staff truly cares about each and every patient and takes their job seriously."
The new space includes 16 exam rooms, 3 trauma bays, and adjacent radiology, ultrasound and CT rooms. The ED also has designated areas for disaster response and decontamination. The large front waiting room includes a children's nook with kid-sized furniture and activities. Every detail was well thought out and the large area provides plenty of room for future growth, Froese said.
"The type of success we saw on our first day in our new space would not been possible without the wonderful staff we have in our ER," Froese said. "It was overwhelming to all who entered the doors, but I have to say it was a great success."   
Members of the St. Luke's Health leadership team, Board of Directors and Livingston Advisory Council officially broke ground on the Level IV Trauma-designated Emergency Department in April 2016. The hospital welcomed community leaders to an open house event on November 13 and provided tours through the ED.
Publish date:
Monday, December 04, 2017
Find a Doctor
---
Looking for a doctor? Perform a quick search by name or browse by specialty.