Local Dancers Party Themselves into Shape for a Great Cause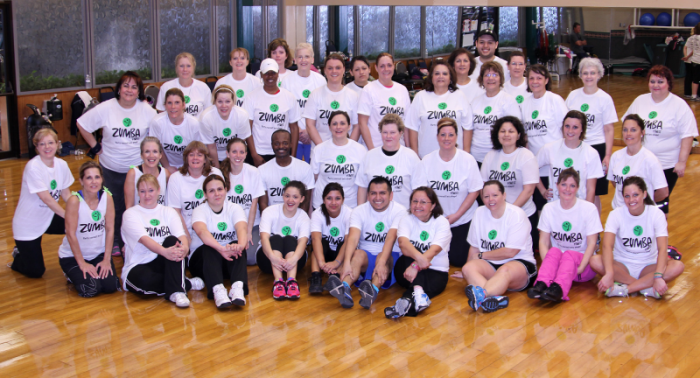 Close to 70 women and men partied themselves into shape at the 2012 Zumba Marathon at Livewell Athletic Club in Lufkin last Saturday.  The event, which raises money for needy cancer patients in the East Texas area, was a tremendous success as Zumba enthusiasts from all over the area took to the floor for Latin-inspired dance moves.
"I was truly amazed that almost every participant danced for the entire three plus hours!" Said Yana Ogletree, Certified Zumba Instructor and Marketing Director for Memorial Health System of East Texas.  "The dancers had so much fun while burning hundreds of calories for a great cause."
According to Ms. Ogletree, the second annual Zumba Marathon raised about $1500 for the Arthur Temple Sr. Regional Cancer Center.  The Center gives money to cancer patients who cannot afford their prescription medications, overnight lodging at the Joe W. Elliott House, or even gas to and from the Center.

The Zumba Marathon, featured numerous local certified Zumba instructors, Sharon Miller, Cindy Mitchell and Yana Ogletree from Livewell Athletic Club; Yanneth Castro, Eddie Matts, Jessica Gomez from Studio Fuego; Amanda Caulk from Get Fit, and Rudy Flores from Lufkin's First United Methodist Church.  This year's event was sponsored by Memorial, KTRE-TV, First Bank & Trust, Zimmerman Communications, Studio Fuego, William George Foods, and Livewell Athletic Club.
Publish date:
Monday, January 30, 2012
Find a Doctor
---
Looking for a doctor? Perform a quick search by name or browse by specialty.