Local Stroke Initiative Recognized Statewide for Life-Saving Efforts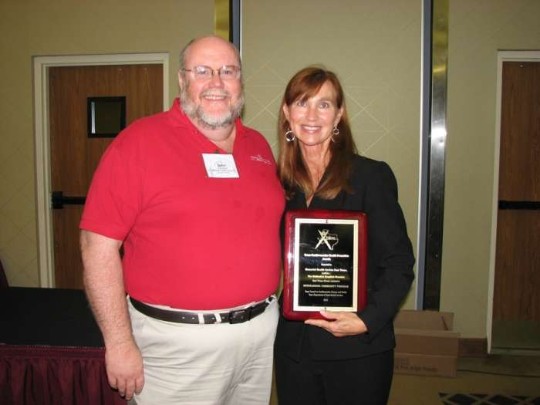 Every forty seconds a person suffers a stroke in the United States.  Living in the Stroke Belt, East Texans are at a higher risk to have a stroke than people in other parts of the country.  That's why Memorial Health System of East Texas and The Methodist Hospital in Houston teamed up to create the East Texas Stroke Initiative which educates the community on risk factors, signs, symptoms and treatment of stroke.  As a result over the past year, our area has seen a 35 percent increase of patients treated for stroke during early onset of symptoms.
Delivering a dedicated, comprehensive stroke program for the community, the East Texas Stroke Initiative partnership is one of four "outstanding programs" recognized with a prestigious honor from the Texas Council on Cardiovascular Disease and Stroke. 
The Texas Cardiovascular Health Promotion Awardrecognizes community-based programs, schools, worksites, and health care entities that promote innovative and effective programs and policies for prevention and/or awareness of cardiovascular disease and/or stroke in Texas communities.  
The Memorial and Methodist partnership identified the high incidence of stroke and mortality rates in the East Texas region.  "When compared to statewide statistics, Angelina County's cardiovascular disease and stroke prevalence rate is roughly double the state average," said Suzanne Monsour, Program Administrator for the East Texas Stroke Initiative.  "Many reasons, such as smoking, high fat diet, diabetes, high blood pressure, high cholesterol and more, increase a person's chance of suffering a debilitating or deadly heart attack or stroke."
Through a widespread Community Education Initiative, the East Texas Stroke Initiative targets at-risk populations, EMS and other first responders, health care professionals and facilities, schools and large employers.  Stroke prevention and recognition education is resulting in stroke symptom identification in patients and saving valuable time from the onset of symptoms to medical treatment.
Because of the generous support from the TLL Temple Foundation, Memorial Health System of East Texas and The Methodist Hospital, Houston, and specifically the Eddy Scurlock Stroke Center, began creating in Lufkin a Center of Excellence for the care and treatment of the stroke patient.  "The ultimate goal of the project is to create a ripple effect from Angelina County, across the entire region, dedicated to improving the health of East Texans," stated Monsour. 
About Memorial Health System of East Texas
As the largest health care system in the deep East Texas area, Memorial Health System of East Texas is a private, not-for-profit hospital that provides care to almost a quarter of a million patients each year.  Since its inception in 1949, Memorial Health System has paved the way for quality, innovative health care in East Texas.  In fact, Memorial consistently ranks among the nation's best for exceptional health care and patient satisfaction. 
Memorial Health System of East Texas is comprised of four hospitals—Memorial Medical Center—Lufkin, Memorial Medical Center—Livingston, Memorial Medical Center—San Augustine, and Memorial Specialty Hospital, the only rural long-term acute care facility within the area.  Memorial offers a wide array of services, including the newly renovated Arthur Temple, Sr. Regional Cancer Center, which has earned another three-year accreditation with commendation from the Commission on Cancer.  Additionally, Memorial is a regional cardiac care center affiliated with the Methodist-DeBakey Heart Center in Houston.  The hospital also is known for providing the area's only comprehensive diabetes center—The Horace C. Polk Regional Diabetes Center.  Other centers of excellence include the Temple Imaging Center that offers some of the most advanced procedures in the area, including PET/CT scanning for cancer and Alzheimer's, 64 Slice CT scanning, Open Bore MRI, 4D Ultrasound, and digital mammography. Other specialty areas include Orthopedic care, Women's Services, Inpatient and Outpatient Rehabilitation, Homecare, Wound and Hyperbaric Therapy, Kidney & Diabetes Treatment, Sleep Disorders Treatment, and Express Lab. Memorial Health System of East Texas—founded and funded by the people it serves. 
Publish date:
Friday, August 20, 2010
Find a Doctor
---
Looking for a doctor? Perform a quick search by name or browse by specialty.