Lufkin Cardiologist Earns Patients' Choice Award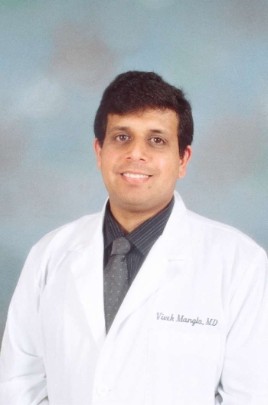 Lufkin based Electrophysiologist Vivek Mangla, M.D. recently won the 2014 Vitals Patients' Choice Award.
For the past seven years, the Vitals Patients' Choice Award has recognized top-performing doctors based on online patient reviews and ratings collected during the calendar year. Doctors need an average rating of 3.5 or higher out of a 4-star rating system and have a medical license in good standing with no sanctions to be recognized for this award.
Vitals.com is a trusted online source for patients to search for more than 1 million doctors, dentists and medical facilities and more than 5 million doctor ratings and reviews. Annually, more than 100 million people search for doctors on this site.
Of all the nation's active doctors, only 5 percent were awarded this honor by their patients in 2014.
Doctors are rated by patients in seven categories: ease of appointment, promptness, courtesy of staff, bedside manner, accurate diagnosis, amount of time spent listening and follow up care.
More patients than ever are using online reviews to search for a doctor. In 2013,only 25 percent of U.S. adults consulted online doctor-rating sites. In 2014, that number jumped to 42 percent, according to an annual poll in a recent study.
When searching for Dr. Mangla on his Vitals.com profile, there will be an icon denoting this prestigious award signaling to new and existing patients that he is highly regarded by the community as one of the very best caregivers.
To see Dr. Mangla's profile, go to Vitals.com. For more information about Dr. Mangla, call 936-639-0988. His office is located at 1105 West Frank Avenue, Suite 110, which is located in the Medical Arts Pavilion on the St. Luke's Health Memorial Lufkin campus.
Publish date:
Monday, January 05, 2015
Find a Doctor
---
Looking for a doctor? Perform a quick search by name or browse by specialty.