Lufkin Doctor Retires After 35 Years of Service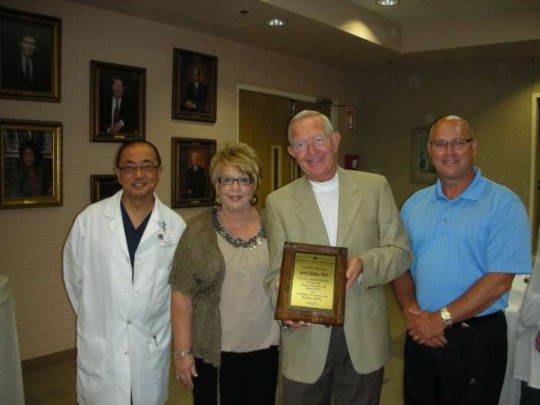 After 35 years of caring for East Texans, Jerry Spinks, M.D., has announced his retirement from his Lufkin practice.  Dr. Spinks began practicing family medicine in Lufkin in 1976.  As a physician specializing in family medicine, Dr. Spinks has treated several generations of families since his arrival in Lufkin.  Recently, Memorial Health System of East Texas held a reception honoring Dr. Spinks' service to the community and to Memorial.  Among those celebrating his retirement were Mario Estrella, Vice President of Patient Services at Memorial; Glenda Spinks, Dr. Spinks' wife; Dr. Spinks; and Les Leach, Administrator-Memorial Specialty Hospital.
Publish date:
Tuesday, July 12, 2011
Find a Doctor
---
Looking for a doctor? Perform a quick search by name or browse by specialty.