Lufkin Lab Recognized with CAP Accreditation
Memorial Medical Center – Lufkin was awarded accreditation by the Accreditation Committee of the College of American Pathologists (CAP) based on the results of a recent onsite inspection.  The laboratory and its staff including Larry Hinsley; Dr. David Todd, Medical Director; Angie Hudson; Gayle Truscott; Janice Oliver; Lesa Lanier, Administrative Director; Christy Westbrook; Judith Few; Tonia Evans and Mary Winthrop, were recognized for the excellence of services being provided. 
This accreditation program is recognized by the federal government as being equal to or more stringent that the government's own inspection program.  The CAP Accreditation inspection program is designed to specifically ensure the highest standard of care for all laboratory patients.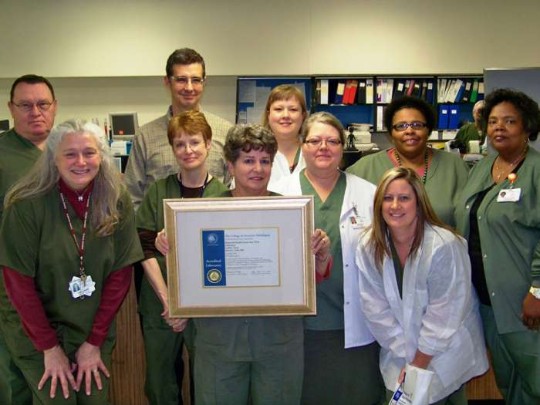 Publish date:
Monday, January 17, 2011
Find a Doctor
---
Looking for a doctor? Perform a quick search by name or browse by specialty.